We do this every quarter and will share our next list (What We Learned in Spring) on Friday, May 31. If you are drawn to reflection but aren't sure where to start, pre-order a copy of The Next Right Thing book and you'll get an entire class I created to help you reflect on your life (a $79 value) for completely free. Learn more right here!
Welcome to What We Learned, where we pause to reflect on the past season before we move ahead into the future.
At the end of this post, you're invited to link up to your own list of what you learned this quarter – be it silly, serious, sacred, or just plain useful. I like to share a mix of all of those.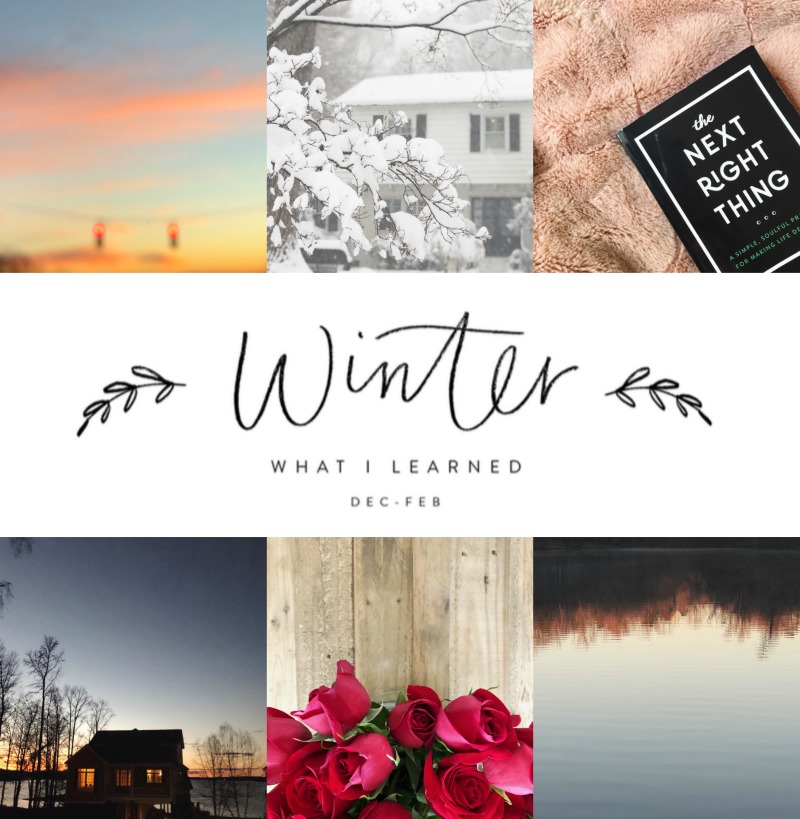 Here are 6 things I learned this winter in no particular order:
1. Benedict Cumberbatch is the voice of The Grinch. WHAT?!
I feel like this is information that everyone already knew, yes? Well I did not. And my mind is blown.
2. The Target logo has gone white.
I didn't know this was in the works but I pulled into the Target across town, the one I rarely go to, and there was the white logo. Not only that, when we went inside: music. In Target. I couldn't believe it! I mentioned on Instagram and everyone had so many feelings. Evidently for many of you the logo has been white for quite some time. If you want to know all the many opinions, check out this post.
3. Going back is inefficient for my schedule but good for my soul.
On the way home from lunch, we passed a field and I couldn't stop staring. So thirty minutes later I went back to take a photo just before the rain began and washed the snow away. I haven't once regretted it. Note to self: do that more often.

4. I'm slightly obsessed with the passing of time and the history of bells.
Just weeks after I returned from London this summer, I learned some things about Big Ben and the Westminster Chimes that fascinated me. I made a few notes for myself to dig into that later.
Seven months went by.
Finally, one day last week, I sat down with the intention of not getting up until I had connected the dots. In the end, it became last weeks podcast episode 71: Let Time Be Your Friend. Once it was finished, I'm embarrassed to admit how deeply satisfying it was for me to have finally found a way to express the thing that caught my eye that day last summer.
5. I'm still a believer in launch teams.
If you don't know what a book launch team is, it's basically a bunch of people who agree to help you spread the word about a new book before and after it comes out. The only time I've ever had a launch team was with Simply Tuesday and it was my favorite part of launching a book.
That was four years ago.
These days they say book launch teams are changing and don't have the impact they did years ago.
To that? I say watch us prove them wrong.
Last week we opened up the doors to join the team and now that they are assembled, I have learned of the power of a group of people who are willing to link arms together to share something they believe in.
Can I tell you how humbling it is as an author? How I've teared up multiple times this week in gratitude that these people would volunteer their time and attention to help me spread the words about this book?
With the release of The Next Right Thing a little over a month away and being the INFJ Enneagram 4 who can get stuck in her head and convince herself that everyone else has what it takes and I, somehow, have missed the "here's what it takes" puzzle piece (I'm fine, it's fine, everything's fine), well. Let's just say having people in my corner means a whole lot is what I'm saying.
thank you for this image, Susie Davis!
6. Doing the next right thing is saving my life.
I was talking with Jess Connolly this morning and she told me this message is saving her life right now, doing the next right thing. And I know I'm the author, and I know I host the podcast, but I found myself nodding along with her, quietly whispering, It's saving my life, too.
It's keeping me present. It's keeping me here. It's reminding me of Jesus, his kingdom, and my small place in it. And I'm deeply grateful.
If you pre-order The Next Right Thing before April 2, you'll get the audiobook for free! As well, I'll send you instant access to a brand new course I designed called Discern+Decide, all about creating a personal and communal rhythm of life. Learn more right here and get your freebies today!
---