Check out episode 182: One Fun Decision (The Shoe Episode) for more ridiculation about shoes. If you're coming here from that episode, welcome! Here are all the shoes mentioned. I do use a few affiliate links throughout this post that helps to support my one fun decision. I'm glad you're here!
If I were in charge of things, I would vote for everyone to have at least one decision in life that you get to be ridiculously extra about. I'm not advocating that we live beyond our means, overspend, or go into debt for the sake of fun. But what if in a designated area of life or a particular recurring decision, we decided ahead of time to let it be fun and take what it takes?
What if we allowed ourselves to take our time, not because the decision actually takes that kind of time to make, but because the process itself is one we enjoy?
Maybe for you it's planning a gathering, reviewing books, putting your TV shows into order from most favorite to least favorite. Whether it's purchasing, planning, collecting, or researching, having one fun decision means our next right thing is to take our time and enjoy the process no matter how inefficient in might be.
Here's one of my fun decisions: I take a ridiculously long time to decide on shoes. It's not because it actually takes that long, it's because I love the process. Since this is one of those areas of life where I've done a lot of thinking and researching, I thought it only fair that I share some of my favorite shoes with you.
Note: I buy shoes and keep them forever. I say this because most of these are on the pricey-er end. You've been warned.
Lotta From Stockholm: Low Wood Brown Oiled Nubuck
 Find them here: Low Wood Brown Oiled Nubuck
I bought my first pair back in 2016 and they were the first clogs I owned (chosen after months of researching clogs). I typically wear a size 7 or 7.5 US and I have the size 38 Euro in this pair. If they didn't have a strap, I would get the 37. I wear these clogs with everything and have taken them with me when I have traveled to Israel, London (twice) and Italy.
I've spilled red sauce on them, walked in the pouring rain, and have navigated all manner of reasonable terrain in these and somehow they always bounce back. The water dries, the stains fade, and the shoe is better for it. (Pay no attention to the inside of my old shoes. They age well on the outside!)
I have purchased two other pairs of Lotta clogs and these are by far my favorites. The other pairs I bought: The Classic Black Clog (I returned these because I think I bought the wrong size: they kept slipping off my feet) and the Peep Toe Clogs (they look more like sandals, also have the strap. I also love these but don't wear them as often as the Low Woods.)
Swedish Hasbeens Lacy Clog Sandal
When I started looking for clogs, I had my eye on either the Lottas or the Swedish Hasbeens. So when I was in London in the summer of 2019 and happened to see a Swedish Hasbeen store in the Seven Dials area of Covent Garden, I walked right in because of course I did.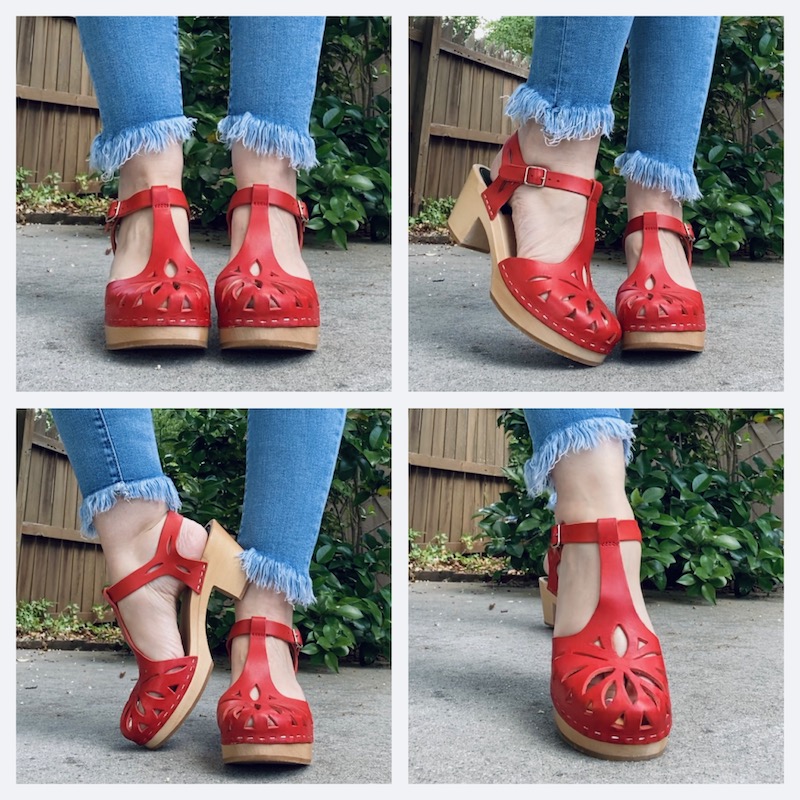 After months of reading clog reviews, I was glad to be able to try on a lot of pairs at one time. The ones I have are hard to find now, but I linked to them anyway as well as a few similar options.
If you can't tell from the photo above, these clogs make me all kinds of happy. I think it's my Dorothy Gale obsession. Red shoes! Now all I need is a yellow brick road.
No. 6 New School Clog on Wedge
Find them here: No. 6 New School Clogs on Wedge
This is the style Kristen Bell wears as Eleanor Shellstrop in The Good Place. She has them in Palomino and have them in Celery. Because they are slip-ons, I ordered the 37 (in clogs with straps I wear a 38) and the fit is just right for me. Bear in mind the heel is 3 inches so I don't wear them quite as often but they are surprisingly comfortable for such a high wedge.
I knew I wanted a color other than brown or black for this stye of clog. At the time, the only other option available was this color (Celery) which is a green taupe-ish color. I might choose the Bone or Chalk (pictured above) if I had the option. Note: Mine are suede while the Palomino are not.
Tieks by Gavrieli
Find them here: Tieks Boutiek
Alternative: Lucky Brand Women's Emmie Ballet Flat
Alternative: Minnetonka Women's Suede Anna Ballerina Flat
Full disclosure: These are not my favorite shoes. I read reviews for months before I finally chose a pair in Metallic Gold in size 7. I am typically closer to a 7.5 but they don't come in half sizes and the website said to size down because they stretch.
Of course when they arrived (in the most fun packaging!), they were too small and I could tell there was no hope they would stretch enough to be comfortable. So I sent them back for a size 8. (The customer service was great to work with and exchanging was easy.)
And while they are comfortable for ballet flats, they do not (in my opinion for my foot) live up to the high price tag. However, if you are a ballet flat lover and want one that travels well and will hold up over time, you might consider trying a pair of Tieks.
Pons by Avarcasusa
Find them here: Avarcas USA Pons – Use code EMILYNPONS for 15% off!
Out of all my shoes that make an appearance on Instagram, these are the ones I'm asked about the most. I'll be honest and say when I first saw these shoes, I was not immediately drawn to them. There doesn't seem to be much to them. Don't they fall off your feet?! Just the one random strap?!
But because finding a great shoe is a fun process for me and because I didn't really have a good flat that I loved, I decided to jump into the research and chose a pair of Taupe Pons in size 8 (I was worried the 7s would be too small).
I wore these for almost a full year and loved them, but always wondered if they were too big. So I was excited to find a store in San Diego that sold them in person. (That makes it sound like I just happened upon a store. For clarity, understand that when I say "found a store" I mean I obsessively researched who carried Pons in California before I visited so that I could try them on in person).
Gold Leaf (an adorable shop, by the way) carries several different colors of Pons. When I mentioned to the shop owner that I thought mine might be too big, she took one look at them and affirmed that yes, they were too big and I definitely need a size 7. So I bought a pair on the spot in Brown and have loved them since that moment.
As for the "random strap" – I cannot explain to you how they work, only that they do. Once I got the right size, I wear them everywhere all the time in spring and summer.
The shoes are handcrafted by the 3rd generation of the Pons family in Menorca, Spain and let's just say that family knows what they're doing. I adore these shoes.
More Favorites
Note for The Next Right Thing podcast listeners: Here are a few more shoes mentioned in the episode but can't find links for (this is the worst photo ever I'm so sorry.)
Skechers Luxe Bobs Rain Dance Slip-On With Memory Foam
Sanita Boots: I bought these on the Lotta website. They don't have this style now, but when they're in season I bet they will carry them again.
Kork-Ease Natalya Wedge Leather Bootie: I haven't been able to find this exact style, but Kork-Ease have that signature wedge I love in several styles available widely.
I don't know how much time I spent over the years choosing these 8 shoes but I'm here to tell you I thoroughly enjoyed the process. In fact, each shoe reminds me of a particular time in my life. I'll stop there before I make things weird.
If this is your first time here, I don't usually talk about shoes. But I always talk about decision-making, discernment, and your next right thing. Check out The Next Right Thing podcast or sign up here for help on making any decision today.