Welcome to What We Learned, where we pause to reflect on the past season before we move ahead into the future. At the end of this post, you're invited to link up to your own list of what you learned this quarter – be it silly, serious, sacred, or just plain useful. I like to share a mix of all of those.
If you're visiting for the first time from my podcast The Next Right Thing, welcome! We do this every quarter and will share our next list (What We Learned in Winter) on Wednesday February 28. Grab your free printable list here to help you keep track and plan to share with us then. Now you can also share your list on Instagram using #wwlcommunity.
Here are 10 things I learned this fall in no particular order.
1. Jennifer Garner is a delight on Instagram.
Some people you follow for inspiration. Others because they are your friend or you want to learn from them or their feed is just pretty.
But Jennifer Garner you follow because she is a DELIGHT. I've always liked her, but that doesn't always translate into an interesting instagram account. Thank you Jamie B. Golden for being our social media boss and telling us to follow this fantastic human. Every single time she posts, I smile. Not like, in my heart kind of smile. I actually smile on my face.
2. In a world that seems drunk on power, this:
"The flourishing of the vulnerable depends on the vulnerability of the flourishing."

— Andy Crouch, as quoted in Shrink by Tim Suttle
3. The role of faith in learning is real.
About half-way through my first semester of grad school, my professor Tim Keel encouraged our class not to become overwhelmed with all of our reading. "Don't become anxious. Read by faith. Trust God will bring it back around when you need it." It's been years since I've been a student, so those words were a lifeline for me in that moment.
4. I am a weirdo who loves cloudy, foggy days.
I belive I would do well in London. When I wake up and the cul-de-sac is covered with a  thick blanket of fog, I can physically feel myself relax on the inside. And if the sun starts to burn it off later in the morning, I physically feel disappointed. It's so strange. It's happened all my life, but it wasn't until this fall that I realized it and named it.
5. Dropbox is saving my life.
I save all of my files in Dropbox now and it is a game changer. Amy Porterfield taught me how to be organized in Dropbox in an online class I took of hers (it's not rocket science but evidently I needed someone to teach me these things).
I didn't realize how much low-grade anxiety was coming from my lack of file organization. But now look! All my podcast episodes lined up pretty.
6. Just because you're good at something doesn't mean you have to do it forever.
You guys. I said that in Episode 13: Quit Something. And you lost your minds. Not really, but when I put this image on instagram, here's what happened:
In the years I've been on Instagram, this image got the most response, two-fold that of my second most responded to image. That's something to pay attention to.
I'm sure there are various reasons, depending on who you are, why this statement resonated. But one reason could be that we live in a world that celebrates starting, producing, winning, and follow-through but there are precious few times where we are encouraged to stop, to quit, or to reconsider an endeavor. Being good at something does not obligate us to commit to it forever or at all. You can listen to the 17 minute episode right here: Quit Something.
7. When making decisions for your home, sometimes waiting is a decision.
For years I've known I wanted to do something different in our 1960s bathroom but I just didn't know what I wanted to do. So I waited. And waited. And it was a low priority. A year or nine went by and this year, I'm finally realizing what I really like.
There are about forty tile options I love (just search "black and white" tile on the Google). This one is called Kenzzi Paloma 8×8 Premium Porcelain. And because you might ask, the shoes are Pons by Avarcas USA in Taupe.
P.S. This image is my second most liked ever on Instagram so you know, that says something about us, too. Ha!
8. Chili with cinnamon rolls is a thing.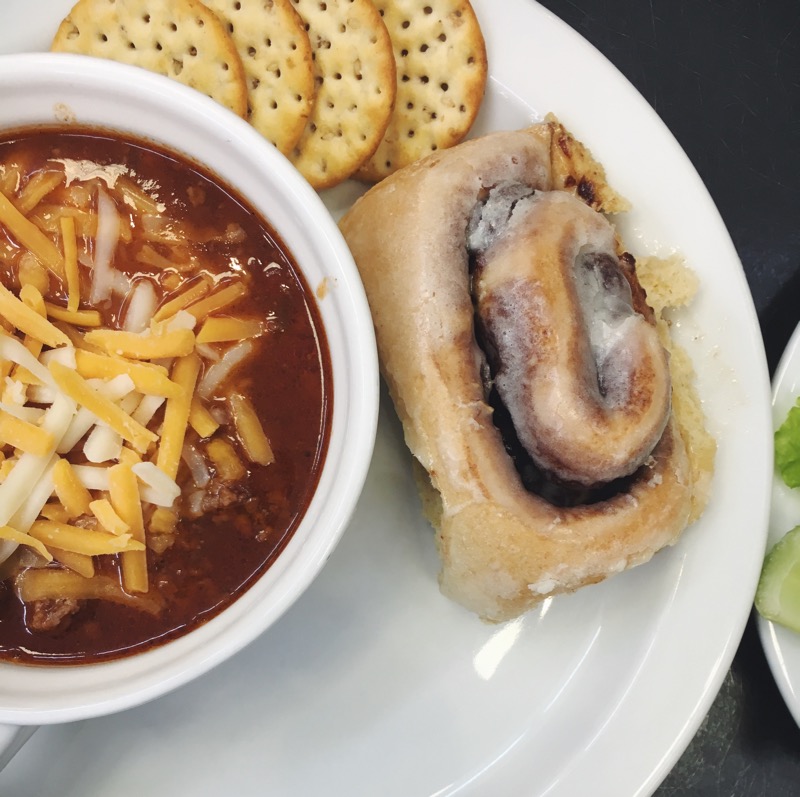 I spent a week in Wichita, Kansas for my residency and at the retreat center they served chili with cinnamon rolls. Like, as part of the dinner, not as the dessert.
I thought it was so strange that I put it in an Instagram story (of course I did) and heard from so many people who grew up on this. And not just Kansas! I heard from Iowa, Missouri, Colorado, and Nebraska, too. They even served this combo in school cafeterias! Wow.
9. Jonathan Edwards was Aaron Burr's grandfather.
I am sure everyone else knew this but I did not! And now that line in Wait for It make's sense: "My grandfather was a fire and brimstone preacher (preach-a, preach-a, preach-a) . . . " Thank you, Hamilton soundtrack, for teaching me so much about Aaron Burr, sir.
10. Krispy Kreme gives a free donut for every report card A.
Never mind that donuts aren't that expensive. This is so fun and I did not know this all this time! It almost makes me forgive them for their gross misuse of the letter K.
***
I keep track of what I'm learning by using my seasonal reflection lists. You can get your own printable lists for tracking your reflections by signing up right here. If you're new around here and want to know what, how, and tools to track what you're learning, check out A New Page for Your Bullet Journal.
Some linking tips: 
Just use your name for the "link title" – it's simpler
Be sure to link back here on  your post so your readers can join in!