It's May, what I like to call work-with-the-windows-open-in-my-office month. Now I can hear the community sounds as they rise up to greet me at my desk – the distant lawn mower, the mailman pulling up into the cul-de-sac, kids laughing from the trampoline, bark-gossip between neighboring dogs.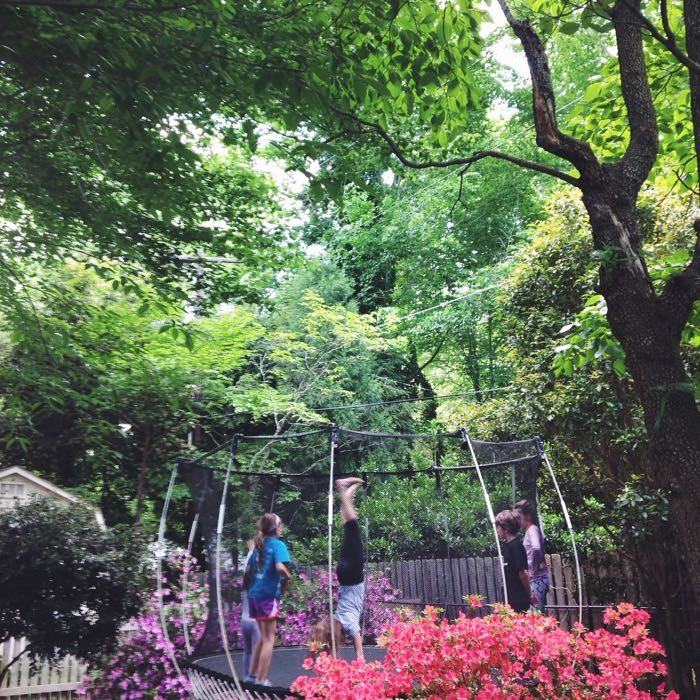 Sometime during the past week or two, newborn baby cries have joined the neighborhood chorus.
Our backdoor neighbor paces their yard several times a day holding their newest member. Through the trees I can't always tell if it's the Mom or the Dad, but I always know it's the baby – short wails and baby hiccups give her right away.
I think these sounds mixed with the arrival of Her Royal Highness Princess Charlotte of Cambridge have me thinking back kindly on the early days of having a new baby.
But I'm no fool.
Motherhood is both miracle and madness.
And so here is a toast for all the mamas everywhere during this week before Mother's Day. It's not the first or the best ode to mothers on the internet, but the words came to mind this morning and so I offer them to you:
Here's to you, dear mama, with the tired eyes, the impossible schedule, and the sour milk smell all over your clothes.
Here's to you with the PBS cartoons in the background, eating a handful of goldfish and calling it lunch, with the toddler who just learned the word mine and won't stop secreting bodily fluids from all of their orifices.
Here's to you who negotiates bedtimes and snack times with a special kind of finesse, the likes of which Wall Street and Washington have never seen.
Here's to you who would gladly and without hesitation jump in front of a bus for your children but, for the love, cannot manage to find the energy to make one more PB & J.
Here's to you leaving work early to pick up ginger ale and saltines for his upset tummy and digging through the trash for the accidentally discarded lovey.
Heres's to you buying poster board at the only open drug store at 11 pm because someone forgot to mention that science fair project.
Here's to you making the ten thousandth school lunch, driving them to practice, trying to remember the multiplication tables while you make the dinner they probably won't eat.
Here's to you asking for help, letting someone else do the laundry and take them to swim practice because you need a minute.
Here's to you who fights off guilt, comparison, and shame.
Here's to you who chooses love, laughter, and a light-heart every chance you get.
Here's to you who is raising them up all by yourself, doing the job of two parents with the energy of only one.
Here's to you praying for their friendships, playing in the backyard, buying shoes again.
Here's to you who doesn't always have the answers to the endless questions, the patience for their constant demands, or the words to communicate just how much you love them.
Here's to you cringing in the passenger seat, staying up til curfew, making pizza for bottomless stomachs.
Here's to you cheering on the sidelines, laughing at their humor, counting down the days.
Here's to you straightening the bow tie, listening in doorways, braiding her hair.
Here's to you making reservations, holding up a camera, waving from the driveway.
Here's to you who prays in the darkness, longs for connection, hopes for the future, and always wants what's best.
Here's to you, dear mama, who no longer has children in your house but holds them always in your heart, who leaves backdoors open wide and arms open wider.
Here's to you – sisters, aunties, grandmas and friends – who do the mother work as you listen, cheer, help, and walk with children in ways only you can do.
Here's to you who longs for the children you don't yet have or children you now only hold in your heart.
Here's to your courage, creativity, and faith.
I raise my coffee mug to you.
And maybe a wine glass or two.
You are exquisite.
To have these posts delivered into your inbox, sign up with your email address right here. I post new content once a week and a short curated list of my favorite reads from the internet on Saturdays. Always glad to have you.