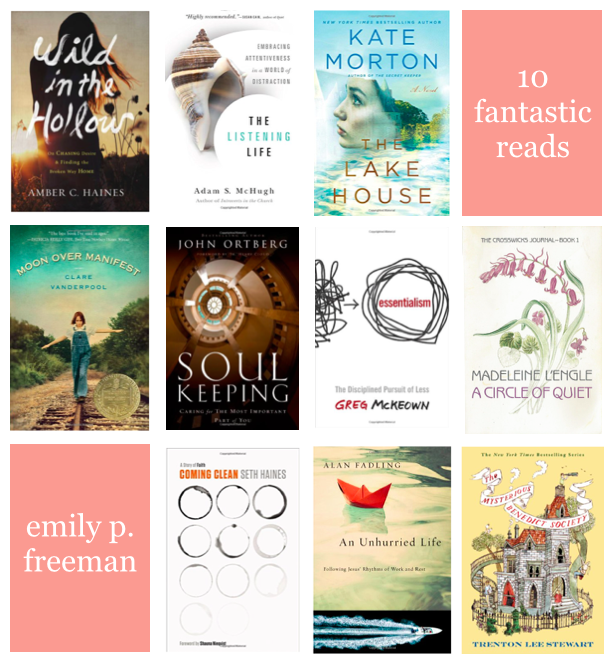 As many of you know, I have a habit of having many books going at once. I've stopped trying to break this habit because I like having many different author's voices in my head on any given day. However, sometimes this means books fall through the cracks before I've actually finished them.
For the last couple of years, I've started keeping a detailed record of the books I actually finish. This year, I read (from start to finish) 34 books total.
Of those books, I've chosen my top 10 favorites to share with you, listed here in no particular order. All of the "about the book" descriptions come directly from the Amazon book summaries where I am a grateful affiliate, followed by a short explanation of why I loved the book.
Genre: Memoir
About the book: "Amber Haines is a woman haunted by God. Like Eve in the Garden, she craved the fruit that she thought would lead her to freedom. But the whispers of temptation led her instead down a path of isolation, dissatisfaction, and life-altering choices. In her most broken moment, Amber met God waiting for her in the fallout, freely offering her grace and life."
Why I loved it: The best writers are the ones who can share the details of their own story in such a profound way that it actually mirrors all of our story. Amber Haines is one of those writers and I am deeply grateful for her artistry, her honesty, and her courage. This captivating book has stunned me speechless.
Genre: Christian Living
About the book: "People talk past each other, eager to be heard but somehow deaf to what is being said. Listening is an essential skill for healthy relationships, both with God and with other people. But it is more than that: listening is a way of life."
Why I loved it: It seems like everyone wants to talk but no one wants to listen. We have public speaking requirements in college, but what about public listening? You guys, we don't know how to listen to each other. It's an epidemic. Adam's writing is profound, lyrical and self-deprecating in all the right ways. When I finished this book, I wanted to start it all over again.
Genre: Fiction
About the book: "Living on her family's idyllic lakeside estate in Cornwall, England, Alice Edevane is a bright, inquisitive, innocent, and precociously talented sixteen-year-old who loves to write stories. But the mysteries she pens are no match for the one her family is about to endure."
Why I love it: Kate Morton is a favorite fiction author of mine and this may have edged out The House at Riverton as my favorite of hers so far. It has several of my choice elements of great fiction: a main character who is a writer, clever suspense, an old house with a story, and an ending that stayed with me days after I finished the book.
Genre: Children's Literature, Historical Fiction
About the book: "Abilene Tucker feels abandoned. Her father has put her on a train, sending her off to live with an old friend for the summer while he works a railroad job. Armed only with a few possessions and her list of universals, Abilene jumps off the train in Manifest, Kansas, aiming to learn about the boy her father once was."
Why I loved it: Initially I chose this book because of the cover but was quickly drawn into Abilene's story. The narrative switches between 1918 and 1936 (two times in US history that have always interested me) and Vanderpool does an exceptional job of weaving the story of Manifest, Kansas into the fabric of history. A beautiful tale about redemption, connection, and the true meaning of home.
Genre: Spiritual Growth
About the book: "When is the last time you thought about the state of your soul? The health of your soul isn't just a matter of saved or unsaved. It's the hinge on which the rest of your life hangs. It's the difference between deep, satisfied spirituality and a restless, dispassionate faith."
Why I loved it: This was one of my first reads of 2015 and I highly recommend it as one to read early in the year, especially if you have much you want to accomplish this year but don't want your inner life to suffer in the process.
Genre: Business, Decision-Making
About the book: "The Way of the Essentialist isn't about getting more done in less time. It's about getting only the right things done. It is a systematic discipline for discerning what is absolutely essential, then eliminating everything that is not, so we can make the highest possible contribution towards the things that really matter."
Why I loved it: I have chronic trouble with making decisions and this book brought things into Claritin-like focus for me. What Soul Keeping does for my inner life, Essentialism has done for my outer life – my calendar, commitments, and work-flow objectives.
Genre: Spirituality, Auto-Biography
About the book: "Fruitful reflections on life and career prompted by the author's visit to her personal place of retreat near her country home."
Why I loved it: I've had The Crosswicks Journal series on my shelf for a few years now and A Circle of Quiet is Book One. L'Engle is one of those authors you read not because you are trying to learn something in particular, but because you want to learn particularly from her. I appreciate how she sees the world and the way faith and creativity are expressed through her.
Genre: Christian Life, Personal Growth
About the book: "We're all seeking balms for the anxiety of what sometimes seems to be an absent, unresponsive God—whether it's through people-pleasing, shopping, the internet, food, career highs, or even good works and elite theology. We attempt to anesthetize our anxiety through addiction—any old addiction. But it often leaves us feeling even more empty than before."
Why I loved it: I took a walk with Seth's wife, Amber, while he was writing this book (Yep, his wife is the author of Wild in the Hollow). She told me about his process, and I could hardly believe he was willing to let us in to the vulnerable details of this process. I'm so glad he did. Documenting the entire first 90 days of sobriety, I'm still tearing up thinking about it. Seth's words for me were a timely reminder of how God shows himself in the midst of our doubt in ways we don't expect – ever tender, compassionate, and faithful.
Genre: Christian Life, Spiritual Growth
About the book: "Following the framework of Jesus' earthly life, Fadling shows how the work of 'unhurrying' ourselves is central to our spiritual development."
Why I loved it: I've read books about slowing down before, but the way Fadling illuminates the un-hurried life of Jesus on earth is what makes this one my favorite. After finishing this book, I was able to catch myself in the cycle of anxiety and physically slow myself down to the pace of holy un-hurry.
Genre: Fiction, Action & Adventure
About the book: "When a peculiar ad appears in the newspaper, dozens of children enroll to take a series of mysterious, mind-bending tests. But in the end just four very special children will succeed. Their challenge: to go on a secret mission that only the most intelligent and resourceful children could complete."
Why I loved it: Sometimes reading a book meant for children is just what I need to celebrate my smallness again. This was a great summertime read and, though it took me a few chapters to settle into, ended up being a delightful pool-side companion.
Every month I send out a list of what I'm currently reading, along with a secret post you won't find anywhere else. Sign up here an choose The Bench to receive that note in your inbox each month.

As you make your own lists of books to read this year, perhaps you would like to check out some more recommendations: