Out of all the decisions in this world we have control over, there is definitely one whole category of our lives we can't predict, manage, or bullet point.
No matter how organized we get, how much we plan, how prepared we are for what might come, one thing we can always count on is that the people in our life will surprise us, delight us, disappoint us, overwhelm us, or confuse us.
We can manage our time, our work, and our agendas but we cannot manage relationships. At least, not if we want them to be healthy.
How do we move forward in love? How can we discern a next right step with the people in our lives when they can be so unpredictable and. . . people-y?
For anyone who wants to remember some basic but often overlooked foundational truths about relating with people, I give you this — A Soul Minimalist's Guide to Relationships.
Release your agenda.
Why is this one so simple and so hard!?
When one of our girls experienced a profound disappointment in her life (she was in fourth grade so gauge your imagination accordingly), I struggled as her mom to balance wanting to teach her a lesson and just wanting to be with her.
It's true, learning is good and disappointments are an opportunity for growth. But I've grown weary of trying to squeeze a lesson out of everything, of always asking what God is trying to teach me in every circumstance, of seeing the world through lesson-colored glasses and forcing struggling people to do that, too.
Instead, when it comes to discerning your next right thing in relationships, releasing your agenda is a good place to start.
Let's practice walking into the great mystery of God. Let's practice encountering Jesus as a person and not a character. Let's practice releasing our agenda to perform, perfect, and prioritize. Let's live this day as a daughter first and allow the student to tag along behind.
If you want to dive deep into what it looks like to release your own agenda, listen in to Episode 23 of The Next Right Thing Podcast or read the transcript right here.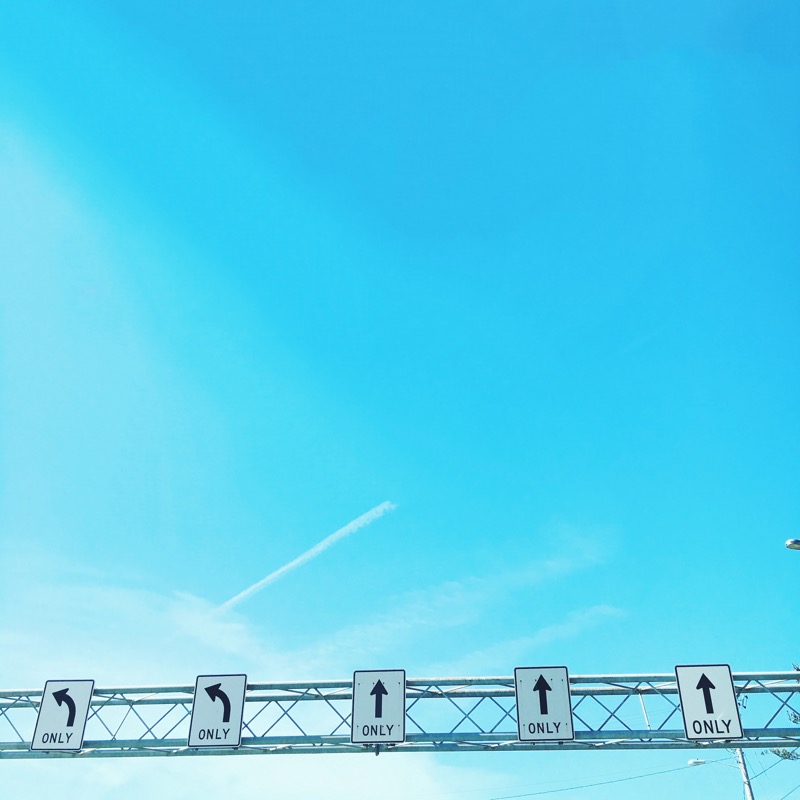 Look for arrows, not answers.
So often, the questions we have in life that give us trouble aren't the daily ones like what to wear, what to eat, when to mow the grass (although these can become burdensome if we're already struggling with decision fatigue).
In my experience, the situations where I most desperately want an answer are the ones that are the hardest to find. These usually have to do with things like faith, vocation, and relationships.
My husband John and I went through a vocational transition about five years ago. No only did we not have answers, every question we asked seemed to birth more questions. What we discovered over that several year-long transition was we were looking for the wrong thing.
Rather than a specific plan, God offered us his hand and led us not to clear answers but simply back to one another. It was one of the most life-changing periods of our lives and it didn't come from a five step agenda but from listening and looking for arrows to our next right step.
"Sometimes the circumstances at hand force us to be braver than we actually are, and so we knock on doors and ask for assistance. Sometimes not having any idea where we're going works out better than we could possibly have imagined." — Ann Patchett, What Now?
If you want to hear more of our personal story of making a vocational transition and how following arrows changed our lives and our marriage, listen in to Episode 24 of The Next Right Thing Podcast or read the transcript right here.

Come home to yourself.
As difficult as it may be to admit, sometimes it's easier to focus on every relationship except the one I'm guaranteed to have for the rest of my living life – the one between me and myself. It doesn't seem right since we are already so good at thinking of ourselves first, wondering what people are thinking of us, and basically being our own point of reference in all situations.
Maybe relief from selfishness won't be found in denying ourselves the way we tend to think of it, but to finally become ourselves the way we were intended to be. Not the false, try-hard, self-referential version, but the true, free self who is created in the image of God.
The only person you're guaranteed to be with every day of your life is you. So maybe it's time to make some peace. You don't have to fly apart in the midst of chaos. You can learn to sit down on the inside and be at home with yourself instead.
"It's a wild and wonderful thing to bump into someone and realize it's you."
If you have a tendency to panic, to doubt yourself, or harass yourself with criticism, listen in to Episode 25 of The Next Right Thing Podcast or read the transcript right here.
Choose connection.
When it comes to relating with people, whether it's family or strangers, how we enter a room can mean the difference between connecting with them or comparing ourselves to them. If I walk in and immediately wonder, What are they thinking of me? then I have automatically made comparison a top priority.
Contrary to what we often say about connection and chemistry, the truth is connection doesn't normally just happen. We have to actively choose to set aside our own insecurities and move toward people without an agenda or a measuring stick.
"With people, you can connect or compare but you can't do both."
If you get on your own nerves because you're constantly comparing yourself to others, listen in to Episode 26 of The Next Right Thing Podcast or read the transcript right here.
[display_form id=12]