For years I've been meaning to make a list of some of my favorite books but I keep putting it off because I have so many books I know will be favorites but I haven't read them yet. Enough with that mess, it's time to start a list, incomplete as it may be. I have more books to add in all categories, but wanted to go ahead and publish this to start. Check back!
Home & Family Life
Know When to Hold 'Em: The High Stakes Game of Fatherhood
 by John Blase. Errs on the side of grace and mystery in fatherhood, a leaning I always prefer. Thoughtful, direct, earthy, a touch of sarcasm, full of grace.
Sparkly Green Earrings: Catching the Light at Every Turn
 by Melanie Shankle. For when you need to laugh through motherhood. Reading this book feels like coming home – a light, enjoyable read.
Families Where Grace Is in Place: Building a Home Free of Manipulation, Legalism, and Shame
 by Jeff VanVonderen
Loving Our Kids On Purpose: Making A Heart-To-Heart Connection
 by Danny Silk. For when you need to know how to parent but all the how-tos  you've learned aren't working. One of our favorite perspectives on parenting.
The Nesting Place: It Doesn't Have to Be Perfect to Be Beautiful
 by Myquillyn Smith. For when you want to love the home you're in. Beautiful photos, hilarious stories, warm writing. A fantastic gift for your mom, sister, aunt, bride, college graduate, home owner, renter, person.
Living Well

Shattered Dreams: God's Unexpected Path to Joy
 by Dr. Larry Crabb
The Christian's Secret of a Happy Life
 by Hannah Whitall Smith
Notes From The Tilt-A-Whirl: Wide-Eyed Wonder in God's Spoken World
 by N.D. Wilson
The Indwelling Life of Christ: All of Him in All of Me
 by Major Ian Thomas.
The Jesus Way: A Conversation on the Ways That Jesus Is the Way
 by Eugene Peterson
Running on Empty: Contemplative Spirituality for Overachievers
 by Fil Anderson
Too Small to Ignore: Why the Least of These Matters Most
 by Dr. Wess Stafford.
The Rest of the Gospel: When the Partial Gospel Has Worn You Out
 by Dan Stone & David Gregory.
Let Your Life Speak: Listening for the Voice of Vocation
 by Parker J. Palmer

A Deep Breath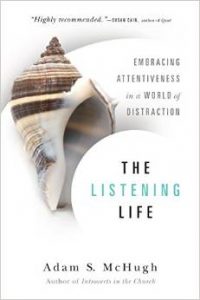 Learning to Walk in the Dark
 by Barbara Brown Taylor
Invitation to Solitude and Silence: Experiencing God's Transforming Presence
 by Ruth Haley Barton
Gift from the Sea
 by Anne Morrow Lindbergh
The Greatest Gift: Unwrapping the Full Love Story of Christmas
 by Ann Voskamp. Thoughtful and elegant – read this one every December.
Choosing Rest: Cultivating a Sunday Heart in a Monday World
 by Sally Breedlove
The Listening Life by Adam S McHugh
To Bless the Space Between Us: A Book of Blessings
 by John O'Donohue

Writing & Creativity

Writing Down the Bones: Freeing the Writer Within by Natalie Goldberg. A few pages at a time will be enough for a healthy writerly push.
The War of Art: Break Through the Blocks and Win Your Inner Creative Battles
 by Steven Pressfield. For when you plan to start your work tomorrow, this book will insist you reconsider and start today. A must-read for creatives.
Scribbling in the Sand: Christ and Creativity
 by Michael Card. For a deep look at creativity through the lens of scripture.
The Memoir Project: A Thoroughly Non-Standardized Text for Writing & Life
 by Marion Roach Smith. Not just for writing memoir, this book is for any writer who simply wants to practice their craft.
Walking on Water: Reflections on Faith and Art (Wheaton Literary Series)
 by Madeleine L'Engle. For when you have forgotten why you make art. Read slow and take notes.

Fiction

The Guernsey Literary and Potato Peel Pie Society
 by Mary Ann Shaffer and Annie Barrows
May B.
 by Caroline Starr Rose
The Shape of Mercy: A Novel
 by Susan Meissner
The House at Riverton: A Novel by Kate Morton
Where'd You Go, Bernadette: A Novel
 by Maria Semple
My Own Words
"Emily Freeman is one of the most gifted writers I have ever read and A Million Little Ways is an extraordinary achievement. Emily speaks openly, honestly, and directly of the journey to knowing and becoming one's true self — A delightful, insightful, and life-giving book." –Fil Anderson, author of Running on Empty
A Million Little Ways: Uncover the Art You Were Made to Live
 :: For anyone who wants to be brave enough to move toward what makes them come alive. Good for learning to live less like a list and more like a lyric.
Grace for the Good Girl: Letting Go of the Try-Hard Life
 :: For women who are tired of trying to work hard for their acceptance and want to begin living from their acceptance.
Graceful (For Young Women): Letting Go of Your Try-Hard Life
 :: Similar message as Grace for the Good Girl, written especially for teen girls.
Simply Tuesday: Small Moment Living in a Fast Moving World :: For anyone who wants to release the obsession with building a life and trust in the life Christ is building in you one small moment at a time.