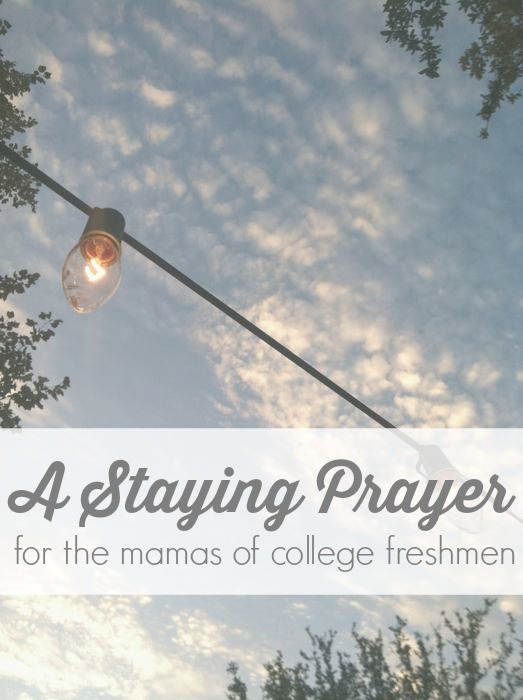 The next few days may be marked with lasts,  but soon her grown-up child begins a new set of firsts. She helps him pack his bags with clothes and his boxes with books. But you see what the mamas carry in their hearts – anticipation, longing, love, regret, anxiety, nostalgia, and resolve.
They are a mix of excited, terrified, and closed-eyed hope.
As she watches her child look for a fresh start, remind her to make her home in you.
As she sends her freshmen off into the world, make her feet steady to stay behind – sure, confident, and at peace.
As she prays for her daughter to find good friends, may you bring prayerful friends to her own side, to remind her she is not alone.
If insecurity, fear, or disappointment knock on her empty-nest door, may she turn to you with her questions rather than get busy doing.
If she receives calls from her faraway girl, though there may be tears and heartbreak on the other line, may she not set out to fix, rather may she sink deeper into you. Weave your wisdom into the fibers of her soul, bearing the fruit of confidence, clarity, contentment and a light-heart.
May she have the patience to believe even when the reports sound grim.
May she not be quick to judge, rather may she be patient and curious.
May she remember what her daughter needs more than answers is to know she's not alone.
May she remember what her son needs more than advice is to know he's got what it takes.
May she not despise her weakness, rather may she see how weakness brings a daily reminder to trust.
May she feel the freedom to feel what she feels without the pressure to be more happy, more sad, or more anything other than simply who she is in this moment.
If she is struggling to let go, in your time replace her fear with courage and her confusion with peace.
And if the not-enoughs haunt her in the night, the fear that she didn't love, teach, do, or instruct enough while the kids were under her roof, comfort her with the assurance that you are the Artist who weaves together good from all things.
Help her release her children into your hands.
For the parents of college freshmen all over the world, may your grace surprise them kindly in this time of newness, waiting, and love.
Amen.
This staying prayer for mothers of college freshmen was inspired by a post I wrote last year around this time: A Sending Prayer for College Freshmen. May you find peace and joy in this season of transition.