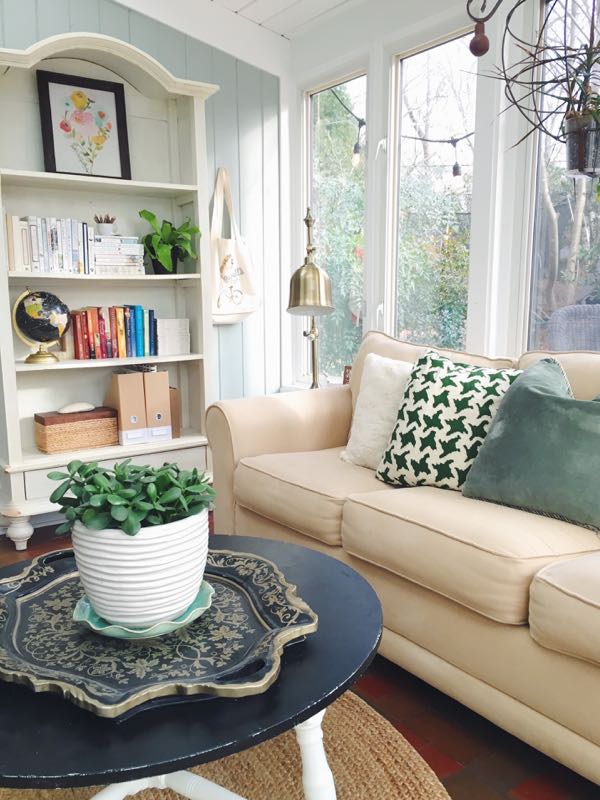 You know how sometimes you're hungry for something but you just don't know what? Or your foot itches but you cannot, for the LOVE, find the exact spot to scratch it?
About a year ago, that's how I felt about my sunroom at. Something was UP with this room. I knew it was wrong. I didn't know how to fix it.
If you want to know the truth, I carried no small amount of shame about this room when it looked like this. It's remarkable how creative shame can get with us – never daring to show up blatantly and announce he wants to steal our sense of self-confidence and personhood.
Instead, shame whispers failure to us when we look at the diaper changing table we bought at Babies-R-Us 12 years ago that we now use as a dresser in our sunroom.
Or he taunts us when we realize we have tried exactly 80 different combinations of plants, photo frames and trays on said changing table and can't figure out why none of it looks quite right so we must just not be very good at styling things.
Instead of seeing it all for what it is – a room with lovely bones that is difficult to style because it has doors and windows on every wall – I saw myself as a failure every time I walked in this room.
It wasn't glaring. It wasn't obvious. I was hardly aware of that low-grade sense of failure at all, actually. But it was always there.
Around spring of last year, my sister designed a course called Cozy Minimalist and because she's my sister, I signed up and took the course. I thought I would learn a few tips about house stuff, but nothing I didn't already know. I mean seriously guys, my sister is The Nester. I have no excuse not to know house stuff, right?!
She challenged us to pick one room of our house as we went through the course so I picked my sunroom as it was the only room left that I just didn't know what to do with. I had kind of given up on it, actually. It felt beyond help.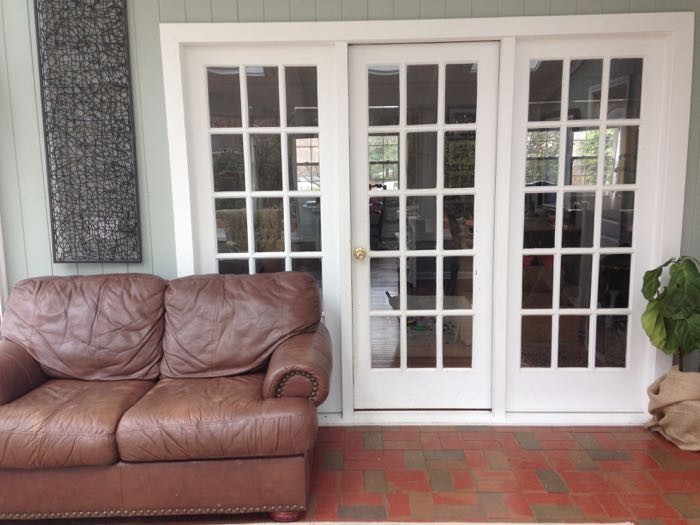 See? I had tried to put this little sofa everywhere but the ceiling in this room and finally I just gave up and left it here, like an awkward middle schooler at her first school dance. A sofa should say come sit on me! but this one just said Pay no attention to the sofa in the corner. 
During the first module of the course, The Nester gave us an assignment – quiet the room.
Basically you just take everything out of the room and off the walls except the major furniture.

After that first assignment, something happened that made all the difference for me.
Quieting the room brought quiet in my soul.
It shushed the voice of shame.
Until that moment, standing in my quiet sunroom, I hadn't realized how loud shame had been in my mind and heart. I hadn't realized how hard I had been working to ignore that voice. I hadn't known I wasn't free until I quieted the room and listened in the silence.
The mistake I didn't realize I had been making in my home was letting shame boss me around.
For a week, I lived with the room quiet just like The Nester said to do. I couldn't believe the power of a quiet room. It gave me permission to begin again.
What do I really love and what am I keeping out of obligation?
Why am I afraid of color and texture? 
What purpose do I really want this room to serve for me and for my family?
All of these questions and more I was finally able to answer. And each module of the course walked me through them.
I'm sharing this with you today because I don't think I'm the only woman who has carried a low-grade sense of shame about my home.
The truth is, we have enough to fight against in this world. Our homes should be the last place on earth where we feel shame.
If there is even one singular room in your house right now that you feel a sense of shame about when you walk into it, maybe it will be worth it to you to take The Nester's Cozy Minimalist class, too.
The course closes tomorrow (Thursday January 20) at midnight. But you can buy it now and go through it at your own pace. And if you're a mom with kid clutter you don't know what to do with, she has another course just for that topic. You can find both courses here – choosing just one or both.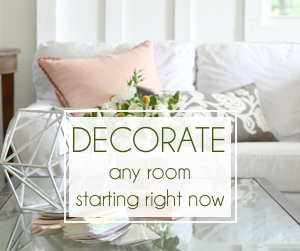 For what it's worth, my sunroom office went from being my least favorite room in the house to my most favorite room in the house and all it took was a change in perspective. I'm grateful to The Nester for helping me see my room with new eyes and, in turn, helping to release me from unnecessary shame.
Welcome to Chatting at the Sky. I'm glad you're here! If you would like to receive regular reminders to create space for your soul to breathe, you can sign up here for updates.