Scooper lives in the Southeast with her husband of fifteen years, three children, and much laundry. Once a history professor, she's now a stay-at-home mom, having traded in a college classroom for school around the kitchen table. She enjoys writing, photography, books, strong coffee, running at daybreak, and anyone who can make her laugh.
For months, I prayed that I wouldn't throw up or cry as I floated down the aisle to meet him. I didn't want mascara dripping down my face or nausea ruining my dress. I didn't want to be a mess. I wanted to be perfect. Looking back, I probably saw God's answer to my superficial prayers as a good sign that life would be a lovely storybook . . . just like that day.
Fifteen years later, I still have the dress and the photographs. What I don't have is a story that matches the one I envisioned on August 12, 1995.  We spoke heartfelt vows and lit symbolic candles. The minister said, What God has joined together, let not man separate, but I hardly noticed. Love is blinding like that.
Life would surely be as pretty as we looked on that day. Marriage would be one extended date night. And when kids came along we would spend weekends strolling through the park and licking ice-cream cones and gazing into one another's eyes as we pushed picture-perfect children back and forth on the swings.
My dreams did not include marriage being harder than I ever imagined and life bringing so much unexpected pain and stress. We enjoyed many good and happy times but as the years rolled by, problems became apparent. Parenthood brought us closer but it ushered new challenges into our marriage as well. Sleep-deprivation only intensified the crazy. We fought and made up but never actually resolved anything significant.
Despite being Christians and going to church, we stubbornly navigated through life and its unfolding drama in our own strength, a rocky marriage simply a by-product of the sludge that simmered deep down below the surface.
Of course the problem was never with me. And the more self-righteous I became, the more he withdrew. And the more he withdrew, the more expectations I issued out of desperation and control. The cycle went on like that until it became our normal.
But "dysfunctional normal" can't last forever. For me, the uglier things became at home, the harder I worked to maintain a shiny and presentable facade. I hoped for the glittery exterior to magically seep down into the ugly deep and wash it clean. I thought life would return to pretty when this or that circumstance went away.
It didn't.
My lonely and entitled self sought comfort in a million different lies. We should never have married. He'll never change. I'm right. We married too young. This isn't what I signed up for. We're being punished for something.
The story is complicated but in February 2006 it reached a climax. We legally separated with fragile hope that it would be temporary. And though it sounds ironic, we still deeply loved each other. There was so much to fight for: children, family, the covenant of marriage. But for six months we lived apart and it was hell.
I'd spent years frantically trying to keep up appearances. Those days were over and relief flooded my whole being. We were a mess and I didn't care if the whole world knew. Pretense is terribly exhausting. I was ready to put that precious energy into saving my marriage.
Words I'd hardly noticed 11 years prior revisited me like a forgotten but faithful friend: What God has joined together . . .
In the midst of a blurry and complicated existence, truth began to shine ever brighter; ultimately it was truth that set me free. God, in his sovereignty and goodness, brought us together. It sounds simplistic but it was all I needed to know.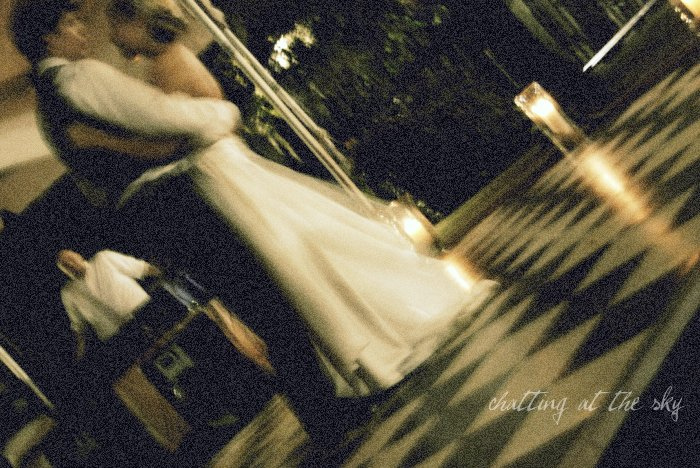 Even the simplest truth holds power to root out a houseful of lies, lies that had long pursued me. In times of anger, confusion, and fear, I'd found solace in their supposed believability. The lies made me the center of the universe so that I could cast all blame on a guiltier party.
Thankfully, truth and lies cannot coexist.  A house divided cannot stand and mine had all but collapsed. God had brought us together. That simple truth inspired profound hope. Desperate and white-knuckled, I clung to it one day at a time.
Slowly we rebuilt. The miracle of restoration began to prop us back up and piece us together. Repentance and forgiveness brought freedom and put our marred union on a path toward healing. Faithful loved ones, generous neighbors, and our church came alongside us to provide love and support that still overwhelms my heart with gratitude.
It was a process. We are still in process. Daily I battle fear and doubt. All those lies taken captive? Well, some days a few of them get loose and come back to visit. Practicing truth takes just that: practice.
My faith was at times non-existent. Even now, it can be shaky. But his word says that if we are faithless, He remains faithful,  for He cannot deny Himself (2 Timothy 2:13). It's backwards to me but I've learned that His ways are usually like that. He brings life out of death, freedom out of surrender, redemption out of brokenness, faith out of unbelief.
God knew what He was doing 15 years ago even though we didn't. He had brought us together and by His lavish grace…
We still are.
Oh, Scooper. What a fantastic, genuine, beautiful post about real love, the messy kind that takes choice and work. I love this post and am thankful for Scooper's willingness to share it with us today. To find out more about her, visit her blog, A La Mode. PS? Today is her 15th wedding anniversary. Go congratulate her!