When John brings a bouquet home from the grocery store, the routine is almost always the same.
He takes those long stems still gathered in v-shaped plastic and sticks them in a drinking glass filled one inch with water, still held together with a twice-wrapped rubber band.
When I see this tightly wound love offering displayed in my kitchen, I know it's my turn.
Cut the rubber band. Remove the plastic. Separate the stems. Throw out any baby's breath (ew). Find the right container. Trim the stems. Arrange. Display. Enjoy.
Last year on Valentines Day, it was this same routine, long stems in a drinking glass left for me to cut and arrange.
Those flowers died a week or so later but the greenery hung on. And on and on. So long that now it's October and just this week, the greenery from my Valentines Day flowers finally started to turn to yellow.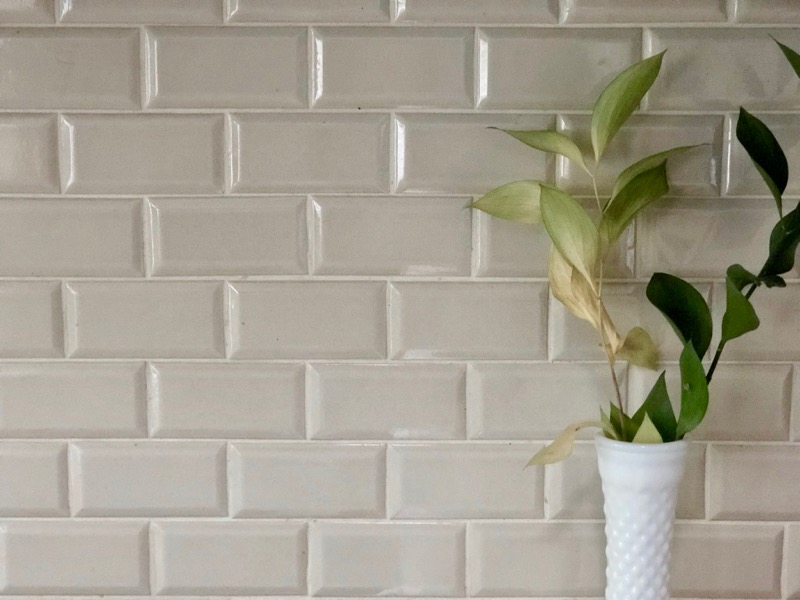 These stems have no business still being here. They weren't meant to last through February, much less see all of spring, live on through summer, and now all the way into fall.
It's so regular but it's also kind of blowing my mind.
I realize that, in recent years especially in the corners of the Internet around which I run, it's become the "in" thing to see the beauty in the everyday things: to notice, to slow, to pay close attention. I know some people roll their eyes about all that, make cynical Saturday Night Live-like sketches in their heads about the gift to be found in the orb of a bubble of dish soap.
Personally? I love everything about this movement to notice, to see, to finally pay attention.
I believe this is a step in the right direction and I am here for it in every single way. How can we possibly live our lives grateful or content if we don't first notice the life we are actually living? How can we begin to move gracefully toward the people around us without stomping all over their nuance if we don't first take the time to listen and see?
This is step one. This is breathing in and out, noticing the world spinning around us, noticing ourselves as we spin.
But this is only step one. When it comes to step two and beyond, things can get fuzzy at best, heavy and hopeless at worst. How can noticing the moments we're living begin to change anything in this broken open world?
This is where I begin to look for teachers, people for whom paying attention is making a difference, mentors who tell me how paying attention is changing the world.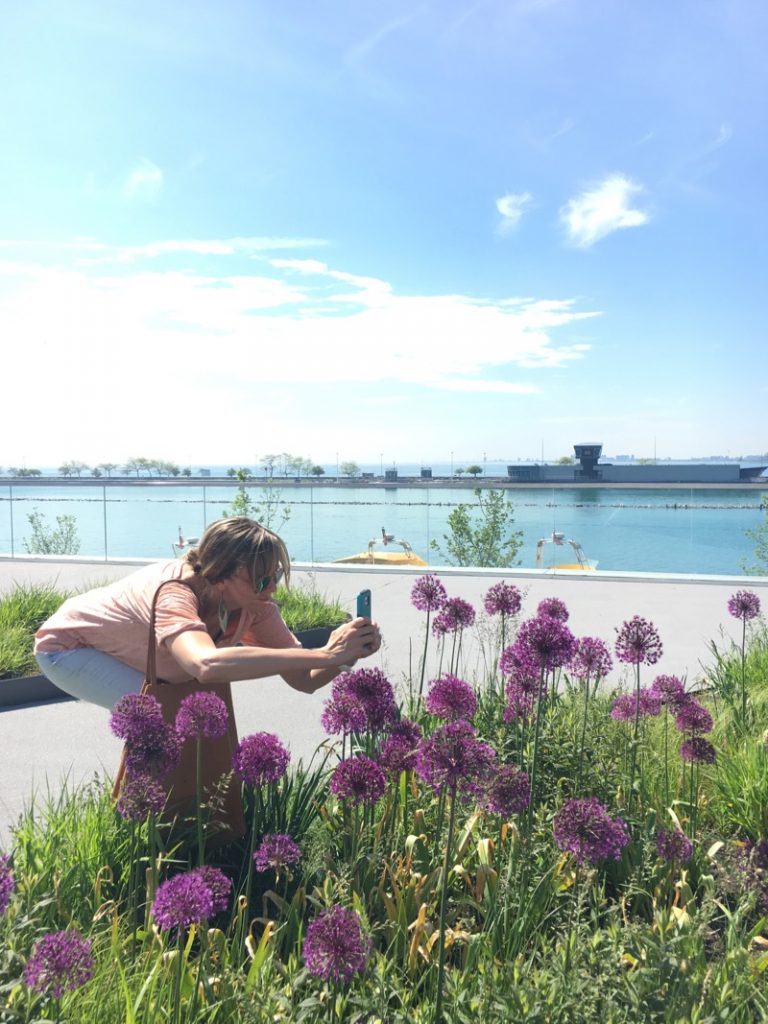 Maybe our country is divided more than ever or maybe it's always been this way and we're finally talking about it I don't know. But here's what I do know: conversations are hard and solutions can feel complicated and that can cause us all to numb out, shut it down, and dive deep into distraction.
And this is where step one can lead us into step two if we're willing.
"We might have a zillion reasons to be jaded about our world, but that is not the kind of person I want to be. I want to be someone who clings to the grace and the gift and the good. Rather than spend my days scanning the digital horizon for a dopamine hit of false comfort, I want to keep my ear tuned to the groanings of my place." — Shannan Martin, The Ministry of Ordinary Places
In Shannan Martin, I have found my teacher. You will not see her face on the side of a tour bus. You will not see her on Oprah's Super Soul Sunday (at least, not yet). But if you're looking for a  step beyond paying attention, I hope you'll find her book.
Because in a world where hope seems dim and solutions feel complicated and partisan, Shannan offers us a starting point that is as radical as it is domestic: widen your circle, hush your mouth, and lock eyes with the world you're in.
And this is where I tell you how I wish, just for today, I had never met Shannan Martin.
Because she has written a book that is, in my opinion, one of the best books of 2018, and I worry you will think because she is my friend, that somehow it discounts my opinion of her writing, her message, and her brilliance.
Here's what you need to know: My love for Shannan's writing came first.
I read her before I knew her, I followed her before I met her, and I was influenced by her before we ever stood side-by-side and I realized how tall she is in real life.
She often says she found her voice in the country and her story in the city and I was there for all of it. I read as a stranger from hundreds of miles away when she wrote from her flower patch in Indiana and I fell, head over heels, with the way she could turn a phrase.
But slowly, over time, the gospel of Jesus turned her upside down and her writing changed as she did – the wells deeper, the voice richer, the courage more pronounced.
Her second book, The Ministry of Ordinary Places, releases into the world today and I have a hunch that if Shannan was a stranger to me, maybe you would trust me more when I tell you how much I loved this book.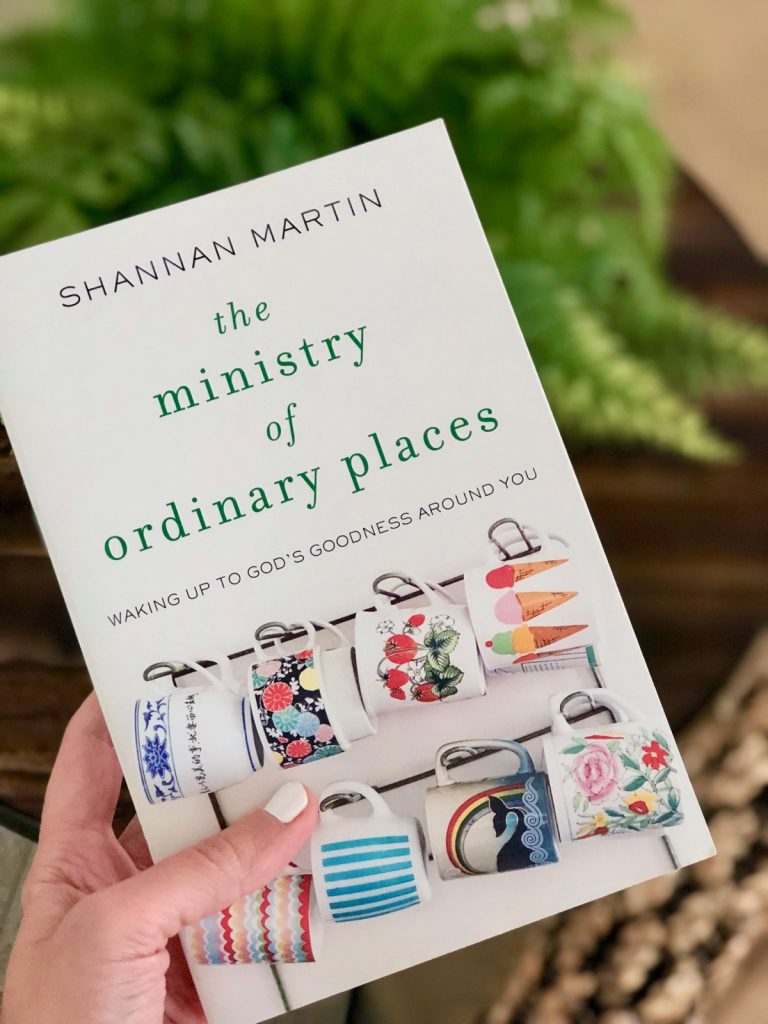 This is the right book for this moment in time and I simply cannot get over it. I either laughed or cried on almost every page. We need these lyrical, prophetic words now more than ever before.
Because it's one thing to see the tightly wound love offering in one inch of water. But it's another thing altogether to engage it, to cut the rubber band, remove the plastic, separate the stems. Shannan shows us how.
"Living an on-the-ground, available-and-engaged, concerned-for-our-neighbors lifestyle . . . means we'll have to unlearn what we've wrongly absorbed about how people are and what they deserve."

— Shannan Martin
This book will be a kind friend to you if you have ever:
felt broken hearted over the state of the world but don't know where to begin to make a difference
wanted to hide in the hallway when someone knocks on your front door
wriggled in your seat at the back of the church because you're not getting anything out of the sermon anymore
This book taught me how to see, how to stay, and how to get over myself. I'm grateful to Shannan for living her one life well and writing it all down.
Shannan Martin is a speaker and writer who found her voice in the country and her story in the city.

She and her jail-chaplain husband, Cory, have four funny children who came to them across oceans and rivers.

They enjoy neighborhood life in Goshen, Indiana, a place they fall more in love with every year. Get your copy of The Ministry of Ordinary Places right here today.

I'm honored to share this post in glad partnership with Thomas Nelson.