Both of my pregnancies ended in early deliveries.
The twins arrived 7 weeks before their due date after many weeks of contractions, trips to the hospital, and bed rest. In the end, they were born at 33 weeks to the day. Two and a half years later, our son with the late-June due date arrived in early June instead.
You could say I've had some experience with managing early arrivals, with frantic planning, with change in expectations and last minute calls for help.
I know what it is to circle a date on the calendar only to have that date not mean a whole lot when it comes to what happens in real life.
Once again, I've had a date circled on the calendar for many months. Not a baby due date, but a book release date.
But about a month ago, I learned this new book I have been planning a November release for is actually going to arrive a little sooner.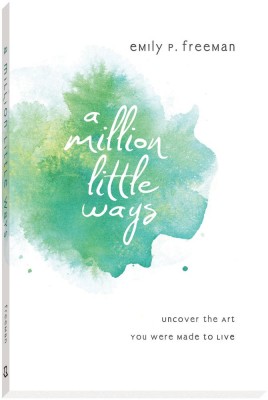 Instead of releasing November 1st, it will now be available in bookstores on October 1st!
In just a few short weeks, these pages will finally make their way to the printer a full four weeks early.
In a way, it's a relief. If I don't finish all that needs finishing, I can blame the calendar.  Ready or not, this book is coming out on the first day of October.
I hope that's good news for you.
I know many of you followed my journey of writing about faith and art on here on the blog (over two years ago now!) and have already pre-ordered your copy. That means it will be shipped to you a lot earlier than you thought.
Maybe in time for a fall study with your friends or your church group? Maybe?
A small token of thanks
You can't know how humbling it is when I hear you tell me you have pre-ordered the book. I wish I could thank you personally for that – it's one thing for you to read, but to want it enough to pay for it before it even comes out? That's something special.
As a way of saying a small thank  you for your pre-order, I've partnered up with a couple of my favorite artists to offer you a few gifts to enjoy as  you anticipate the release of the book.
Shine – A free song by Christa Wells from her new album, Feed Your Soul (these lyrics fit so nicely with the message of the book – I was thrilled with Christa graciously agreed to offer it to you)
$10 coupon from Lisa Leonard Designs with a minimum purchase $26
The Artist's Manifesto – a 5×7 printable quote from the book
Here's how you can get these gifts:

Pre-order your copy of A Million Little Ways (from Barnes and Noble, Amazon, or your favorite online retailer) and complete this form to receive your 3 free gifts from now until September 30.

Did you already pre-order months ago? Great! Go ahead a fill out the form, too.

If you have a question or difficulty with the sign up form, (some people have said they don't get the confirmation email – be sure to check your spam folder) simply send an email to amillionlittleways (at) gmail (dot) com and we'll get you all straightened out.
I look so forward to finally having this book out. These last few weeks have been a bit frantic as we've been trying do eight weeks worth of work in only four. But it's satisfying work and I'm thankful for it.
P.S. For those of you wondering about our Barn Event, I'll post an update at the beginning of next week. Tickets have not yet gone on sale, but they will soon! Stay tuned.