Most of the time we walk in order to get somewhere. But sometimes we need to walk in order to remember where we are.
I've come to recognize when my soul needs a little more space than I've been giving her, a little more room to think and consider. This morning as I sat in the corner of my sunroom sofa, holding warm coffee and reading in Matthew 6, I felt it like a switch – You have to get outside. Go now.
Like much of the east coast today, our town is covered in a snowy, icy mix. I walk out into morning, frozen yard crunches beneath my feet, mismatched gloves uneven on my hands.
I'm mostly concerned about falling. Slipping is only funny when it happens to someone else and only rarely when it happens to you as long as you don't fall all the way down and are with a group of people who love you.
But walking through the neighborhood alone, knowing every single person is most likely in their houses and at any given moment can glance out and see you, slipping is not an option.
I am more aware of this than I would like to admit. But I just did so now you know.
I'm mean, it's fine, it's whatever.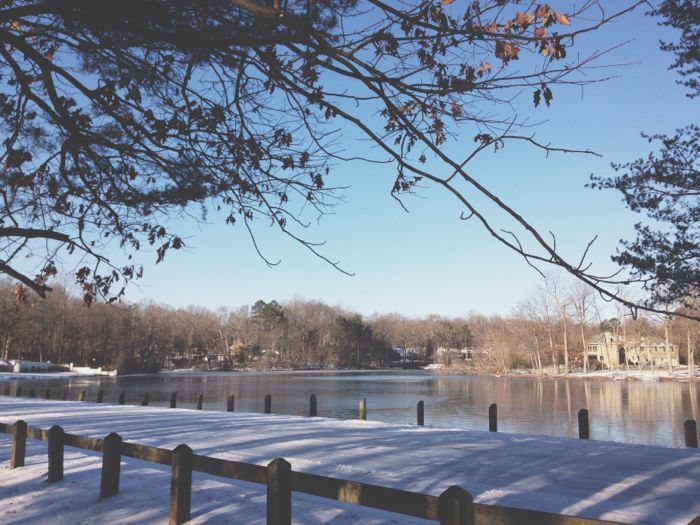 It's a discipline to walk without an agenda, to let yourself carry concerns with an open hand rather than trying to untangle them.
Because of the ice, my rhythm was broken a bit today, but maybe that's just as well. The world is broken and the rhythm fits, doesn't it?
I downloaded the Caring Bridge app to my phone a few weeks ago, two friends fighting their way through cancer. They're both too young. Sunday, one went home. We'll go to her funeral this week.
I try to untangle it, but no. Carry it.
From what feels like one end of a long tunnel, I've had my eye on the news this week, unsure and timid as to what to think or how to pray about 21 Christians beheaded in Libya. I want to drop it, if I'm being honest. But no. Carry it.
The long list of to-dos pile up in my mind, an unwelcome tally that always seems to be in the background of everything. You don't belong here with cancer and beheadings. Go away now.
I want to shame the daily task from interrupting these serious concerns. But no. Carry these, too.
And so the walking continues in a kaleidoscope of tragedy, grocery lists, dreaming, longing, and disappointment. In the uneven, careful rhythm of my steps, I recognize something of what it means to be human. Our bodies work in repetition – heartbeat, circulation, respiration, chew, chew swallow.
But the soul isn't so easily measured. I think that's why walking helps her to breathe, to release some of the tension she holds onto. Our bodies teach our souls when it's safe to come out.
Walking without an agenda offers the soul room to emerge.
I know the directive be still and know that I am God is good for me. But I have to be honest and say sometimes the best way to still my soul is to move my body. He comes more fully alive in me as I walk.
It's the first day of Lent, a time to make space for God.
"During Lent we are called to stop (or at least modify) whatever we are doing, no matter how important it might be, in order to enter more intentionally into disciplines of prayer, self-examination and repentance. Hopefully, as we kneel and receive the ashes today, we will come with some sense of how God is inviting us to enter into the Lenten season—the more concrete the better.

As we enter into this wilderness time, may we recognize a sense of anticipation about how God will meet us in the space we are creating for him."
As I hear the uneven rhythm of my shoes on icy ground, walking helps me remember the brokenness in the world and my role in it.
As I expose the concerns of the day and the world into the presence of Jesus, walking helps me remember we are moving forward even in our sorrow.
As I remember the comforting words to be still and know God, walking helps to quiet my mind and in turn, comfort my soul.
Arriving home, I have no answers except knowing in all of this, Jesus is present. For all of this, he is enough.