We do this every quarter and will share our next list (What We Learned in Spring) on Friday, May 29. If you are drawn to reflection but aren't sure where to start, I've created an entire self-paced, online class to help you reflect on your life. Learn more and enroll in Discern + Decide right here.
Welcome to What We Learned, where we pause to reflect on the past season before we move ahead into the future. "It's not the experience that brings transformation,"says author and teacher Jan Johnson, "it's our reflection upon our experience."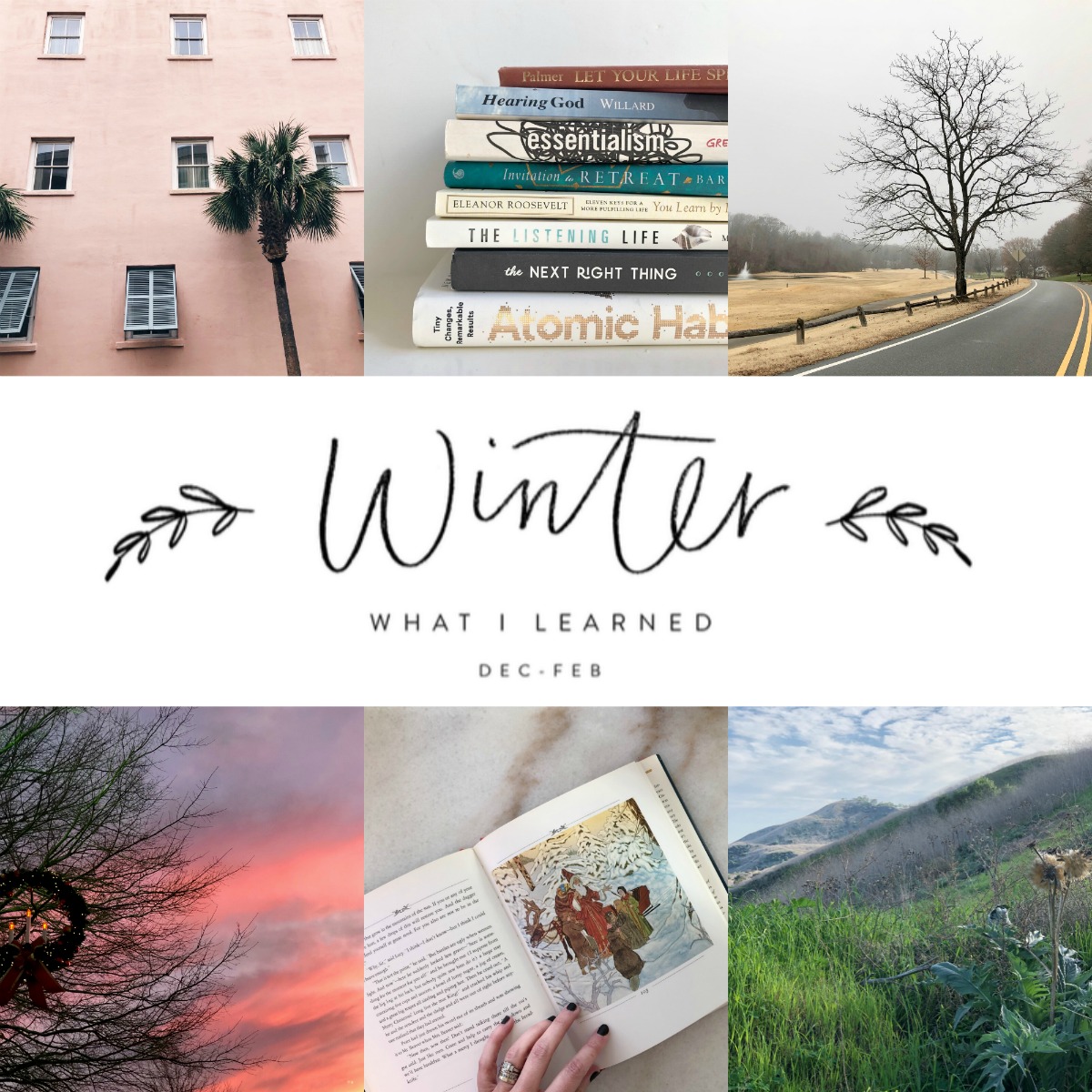 If that's true (and I'm convinced it is) then it's vital we establish intentional time to reflect on our lives. Reflection is part of my daily and weekly routine, but once a quarter I like to share some of my list and invite you to share yours. Note: Where books are shared, affiliate links are used.
Here are 10 things I learned this winter in no particular order:
1. I can change my habits.
Towards the end of last year I read Atomic Habits by James Clear and while there wasn't necessarily any earth-shattering advice inside the pages, I still found I couldn't put the book down.
Sometimes simple truth is the most irresistible. Specifically, I have gone from zero yoga in the second half of 2019 to a daily home practice of yoga in 2020 (today marks day 58 in a row!)
The non-secret secret: Make it obvious, easy, attractive, and satisfying.
2. Our kids birthdays are not just for our kids.
The girls turned 16 in January and after asking them for months in advance what they wanted to do to celebrate and getting only half answers and I don't cares, I realized maybe my obsession with wanting their birthday to be special was not just for them but for me.
And so I made a list in my journal of what I wanted for their birthday:
I want them to feel celebrated in a way that suits them.
I want to be present.
I want to bring peace into the day.
I want to eat good food.
I want to celebrate the milestone without being annoying.
3. I need to say no even more than I thought.
As someone who talks a lot about boundaries, essentialism, and making space, I've learned this winter that I still have a lot to learn about actually putting this into practice. Coming soon: Emily has less meetings.
4. I need to say yes even more than I thought.
What?! Emily where is the glitch in the matrix you just said the opposite are you okay? I'm learning it's possible to need to say no and yes at the same time just not to the same things.
For example, I need to say no to almost all requests for endorsements right now (I know, it's a super author-specific example but this is my life and my list so you understand) so that I can say yes to collaborations, a few learning communities, and a huge project that requires deep work.
5. "There's a light at the end of letting go." Sawyer, Letting Go
It feels like the worst, this letting go of what you thought would be and who you thought you were. But this line sums it up and feels especially important during this current season of lent.
"I found the door but not the key
To be alone but not lonely
God help me to believe
There's a door that I can't see

Even when I'm left to stand alone
Even if you never come back home
Still I know I can feel it in my bones
There's a light at the end of letting go"
6. I am not my emotions.
I may feel them deeply. I may despise them desperately. They may move me to from madness to gladness and back again some days. But they do not own me, boss me, or define me.
7. Pinterest is the most beautiful and useful search engine.
Thanks to my sister and her Cozy Minimalist Community, I have started to re-think our living room. She gives step by step instructions on how to redo a room of your house, starting with creating a pinterest board of inspiration with at least 50 pins.
Here are some images I pinned for our living room and I continue to be fascinated by my inability to avoid florals and pinks despite my verbal insistence that I love only neutrals.
8. Parenting is hard and I'll never feel like I'm doing it right.
I know this is not the right way to frame this (what does "doing it right" even look like anyway? Don't answer that.) But I think this has been a season of accepting that our kids are growing up and [Spoiler alert!] we still haven't really figured out how to parent them. Lord have mercy. Jesus be near.
9. Speed matters in a race but life is not a competition.
When it comes to creativity, personal development, spiritual formation, and life with God and others, your pace is your pace and there's no such thing as behind.
10. Once I finally found the courage to confess I was lonely, I found so many people are lonely, too.
I will have more to say about this but in summary, that's a huge thing I learned this season. See: this podcast episode and this instagram post.
Now it's your turn. What's something you've learned this season?
You are invited to the Inlinkz link party!