My oldest daughter (and when I say oldest, I mean by 3 minutes) told me last week that if she ever has two girls and a boy she will name them Chevon, Sabine, and Jeddel. We don't know anyone with those names and I don't think she's read them in any books or seen them on TV, though I could be wrong. But she is eight and loves to read and thinks up stories as easily as she breathes. So for her to think about her someday children's names is quite perfectly normal, however unique they may be.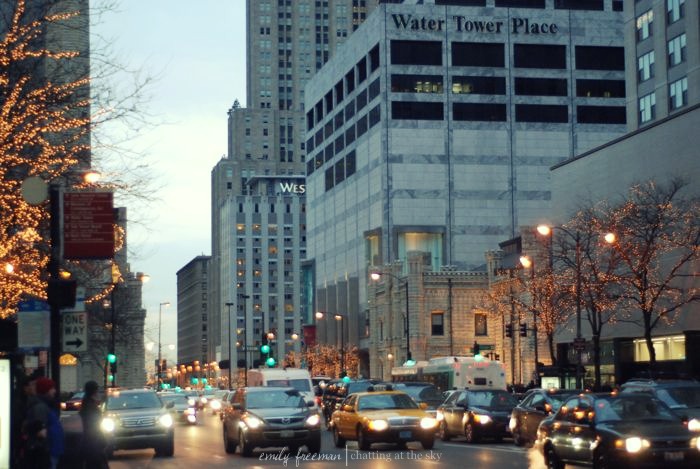 We spent five days in Chicago last week – it was the first time our kids have been to a big city. They've been to Charlotte countless times, but never uptown or anywhere close to the buildings. I'm sure they have sore necks for all the time they spent looking straight up while we walked. On one hand, it was a gift to be there – to buy birthday gifts for our girls, to stand in line for deep dish pizza, to gaze through windows of four story shops. But there is another hand, one on which I heavily lean, and that is where I noticed how easily I was swept along with the crowd of people. There was no space to make a decision, to turn around, to take a photo or choose to walk more slowly. There is one pace and one direction on those sidewalks. Even I grew impatient when someone compromised it.
I realize these fast-walking people are most likely not the city people at all, but people like me from North Carolina and Pennsylvania and Arkansas. Visitors. And we all arrived in that place from our various pockets of the country and hustled past the blind man on the corner of Michigan and Superior, the kids stared and the grownups pretended not to see. And I wanted to run screaming to the cameras that were surely hidden in the light posts, Okay! We get it! We are all totally and completely messed up down here. I give up. We lose. At the same time, I longed to bring our dog and my curtains to Lincoln Park and move right in. I wanted to embrace the city life and find my own place among these bustling, Starbucks people. I wanted to bring mini hotdogs wrapped in crescents to the brownstone two blocks over on New Years Eve.
And while I was there, I was my own Sabine. I imagined myself making different choices in life and this shadow, other-me lived in the city, did city-ish things, had a life that was both mine and not mine. Her children knew how to ride the train, the noise was normal, and life was big. I wonder what that would be like?
In a way I don't have to wonder. 2011 was the sidewalk on Michigan avenue. Thrilling. Heartbreaking. Fast-paced. Both frantically loud and painfully beautiful. This past month has been a gift at the end of that sidewalk. After many months of breathing out, I have taken a deep breath in. I am amazed at how desperately I needed it.
This month marks six years of Chatting at the Sky. Thank you for coming back again. I am tempted to say Welcome to this new year! But that implies a bigness that I'm not comfortable with. So instead, I imagine we are not the ones doing the welcoming. Rather, we are welcomed into the new year, ushered into it, invited forward to a place we have not yet been.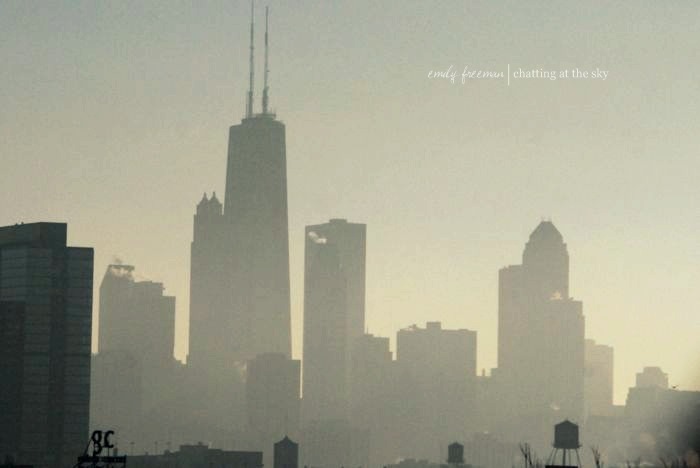 As every introvert, home-body knows, the best part of a trip is coming home. I left my imaginary Sabine-self with the Chicago skyline to live her imaginary life and came home with my family to our quiet cul-de-sac, our white house with the black shutters, and our ridiculous dog. I have come home, in so many real and imaginary ways. I am certain you'll see more Chicago photos in the coming days and weeks, as I was thrilled with the scenes each ever-loving minute and took way too many photos. It's as it should be.
I'd love to hear from you today. What would you like to see in this space this year? How can I best serve you? Or if not that, what is something you are working on this year in your space, be it a blog, your home, your business, your relationships? I'd love to hear your ideas and inspirations.