It's October, 2012. I fly to Colorado, touch down in a land of pointy red rocks taller than skyscrapers, flat land nestled up to the Rockies.
I rent a car that smells like cologne and cigarette smoke. Memories of my father-in-law hit me like a wall. I tear up the minute I get inside. He's been gone over a year now.
As I drive away from the airport toward those massive mountains, I feel a bit desperate for the familiar. Even though my surroundings are beautiful, I have a strange desire to add trees to the landscape in my mind – give me tall pines and green leafy foliage, the comfort of my East Coast home. This feels like a longing for something deeper, but I try to avoid it by listening to Ingrid Michaelson's Turn to Stone.
Her voice helps a little.
I drive up I-25 to find Panera – eat lunch, a cookie and a bottle of water. If anyone is going to avoid altitude sickness, it's this girl.
The Garden of the Gods takes my breath away. I haven't traveled a ton in my life, but I have lived in Michigan, Iowa and Indiana; North Carolina with her rolling hills and South Carolina with her Low Country charm. I've visited Canada, Spain, Los Angeles, Maine, and the Philippines.
But here in Colorado Springs, those red rocks in The Garden of the Gods might be the oddest things I've ever seen in real life. I'm certain the people who live here think these mountains are normal. But I have a hunch we might be on Mars. This land is dry, different, and strangely beautiful.
I'm here for a week to take a class, but really I see it as a personal retreat. By now I've written and released two books with moderate success and I need some time of quiet listening. I need a deep breath.
I haven't hit any best-seller lists or won any awards. But the books have sold well enough and I've signed a contract to write a third.
My room has two beds, a desk, a chair, a window. No TV, thankfully. I wish I had a TV. Give me the evening news, a reality show, anything to distract me from myself.
I have dinner with Larry and Rachael Crabb. He's written more books than I can count, has more degrees than I can remember and understands his own inadequacy in a way that shows both deep humility as well as profound masculinity that I can't explain but puts me at ease.
I share with them about this book I'm working on, how it's due at the end of the year, how I'm struggling and circling around the word art. I tell them I'm nervous, worried that I'm not cut out for this work. I tell them I can't get the work off my mind.
They seem to understand.
But Larry knows how to initiate a conversation that matters, so he wants to know about more than just the writing. He asks me what my friends would say about me if they were here. I tell him a few words I think they might say, none that particularly excite me.
Then he asks what I wished they would say.
"Smart."
It comes out before I have a chance to remember not to say it. I don't even realize I think that. What about kind? Giving? Supportive? Nope. Smart is the word that comes out.
And then I start to cry.
In my great insecurity, I am most concerned about smart people reading my words and thinking them small and uninformed.
"If I had to preach your funeral tomorrow," he says, "I would say 'Here lies Emily, a woman with almost fully released courage."
I'm not sure whether to laugh or cry. On the one hand, Larry Crabb just hypothetically killed me. On the other, he pointed out how I'm living scared. And the worst part is, he's right.
Just as I'm trying to decide how to respond, Rachael leans over closer to me, "You want to get rid of that 'almost' don't you?"
Yes. Getting rid of the 'almost' is the only appropriate response. But how?
The next day, we gather to listen to Dr. Crabb teach about the power of relating with people in the energy of Christ rather than always trying to prescribe them help. He emphasizes four words and I write them down in my notebook.
Engage. Arouse. Envision. Release.
He's talking about what it looks like to have conversations that matter, to be believers in the world and to be with others in a living, centered, relational way. But all I can think about is art.
I think about my trip years ago to New York City with my college roommate, Faith – how we went to see Wicked and I wanted to weep through the entire performance because it was all so beautiful.
I think about being 17 and listening to Sarah Masen sing and play her guitar in my high school youth group, how she didn't just sing notes, she sang story. And yes, she was talented, but she was also generous.
I think about the watercolor hanging in our kitchen, painted by small hands, offered as a gift.
The kind of art that moves us, the kind of art that leaves a trail, the kind of art that makes an impression is not the bossy kind.
Art doesn't diagnose, treat, advise, scold or lecture. Art doesn't lie, manipulate, assign, or prescribe.
Art engages, arouses, envisions, and releases.
Isn't that our job, too?
Art, the human kind.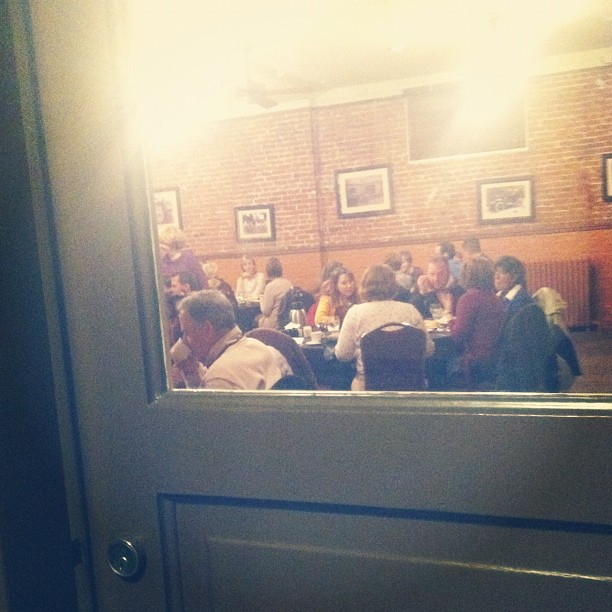 It's been over a year since my trip to Colorado Springs. That book I struggled so much to communicate is now fully written and perhaps even on your bedside table.
I believe I've finally made the connection between making art and living art. I have Dr. Crabb partly to thank for that.
Now it doesn't seem to matter as much if smart people read my words and think I'm ill-informed. I am finally beginning to live as the artist I am without apology.
You can, too.
As an artist among fellow image-bearers, you are not to ask, Did I do this exactly right? 
Maybe you did and maybe you didn't. Or maybe you're asking the wrong question.
Instead, your job is to decide, Was I me? Did I offer my genuine self into the presence of others as myself? Or did I show up as an imposter?
In your profession you may be required to diagnose or advise or lecture or fix.
But as a human living among humans, your job is one of an artist, not a know-it-all or an expert.
Make a mess, be a sloppy first draft, scribble in the margin.
But don't turn in someone else's work. We just want you, fully alive as you. We want the person of Jesus relating with us through the filter of your unique personality. And whatever comes out as a result of that?
This is your art. This is your courage, fully released.
This is day 9 of 31 Days of Living Art. Click here to see all the posts in the series.

If you would like to have these posts delivered into your inbox, subscribe here for free and choose the option 'blog posts.'

If you are interested in joining a book club to read A Million Little Ways (the book I share here in this post), visit Bloom (in)courage for all the details, including the reading schedule and how to apply for a sponsored book if you are unable to purchase one. We'll officially begin on October 21. I hope you'll join us.