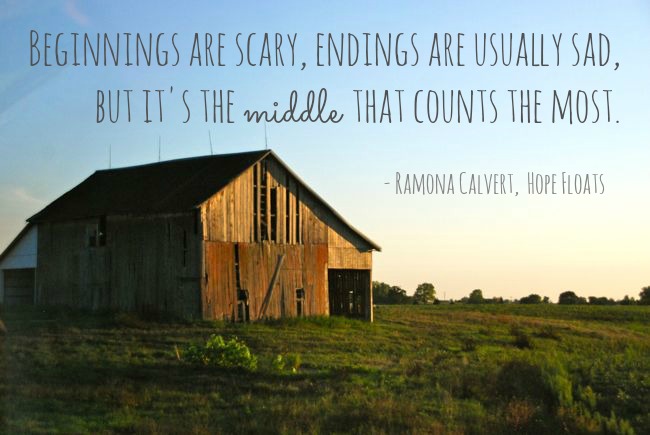 When Sandra Bullock got up to present an award at the Oscars last night, I remembered her words at the very end of Hope Floats when Birdie shares things her mama always used to say.
"Beginnings are scary, endings are usually sad, but it's the middle that counts the most. You need to remember that when you find yourself at the beginning. Just give hope a chance to float up."
Sometimes life feels like one long middle – one monotone list of sameness.
But then there are other times, like these days for me, when the middle drops from under my feet and life feels more like a series of endings and beginnings folding over one another.
If you're standing in the middle, I hope you'll remember it hasn't always been this way and one day it won't be like this again. Collect what you need, be faithful where you are, and remember the sacred gift of ordinary days.
If you're stepping into a beginning, remember love drives out fear, you are not alone, and courage will grow as you move.
And if you find yourself approaching an ending, looking back over the colorful mess of joy and sorrow that have shaped all the days before,  give yourself permission to grieve your losses, celebrate your loves, and anticipate the start of something new.
Are you in a middle, a beginning, an ending, or some combination of all three?