October has brought out some serious nesting instincts. I've been cleaning out, getting rid, and froofing up like a mad woman. One place I've spent some extra time in lately is the twins' room.
To fully appreciate the after, you must first see what their room looked like before we moved in.
Nothing says 'princess' like a wall of dark paneling and a pile of junk in the corner. So when we first moved in, we painted the walls Sherwin Williams Celery and put up their bunk beds: instant girl room.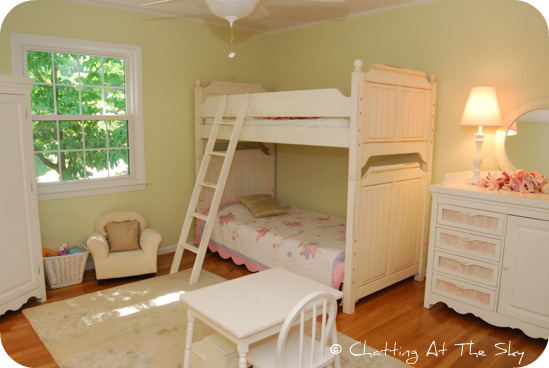 Still, I felt like it was missing some magic. Then, I saw this post a few months ago from my friend in real life, Amy at Playing Sublimey. She took tulle, white lights and some leftover wood scraps and made her girls room look fit for a castle. We don't have wood scraps, but we did have some nets in the closet just waiting for inspiration. I thank Amy for giving it to me.
We hung the nets from the ceiling and tacked white lights to the wall behind it. Mirrors were already hung over their beds. I was too lazy to take them down and then I realized it made the twinkle lights that much more twinkly. What a happy accident.
There is little I love more than some tulle and some white lights. The girls think it is the most fantastic thing ever. I have wondered more than once if The Man would let me do this in our room. I'm thinking not.