If you're curious about what went on during the book launch party, you can listen in right here! Learn more about The Next Right Thing right here.
Okay so it may not be a comprehensive list that everyone can follow.
But after 5 published books I finally figured out to have a launch party that works for me. In some ways this list is applicable to every book but for the most part, it's super specific to this book. And me. And my friends. I'm sorry! But also you're welcome because some of these ideas are definitely replicable!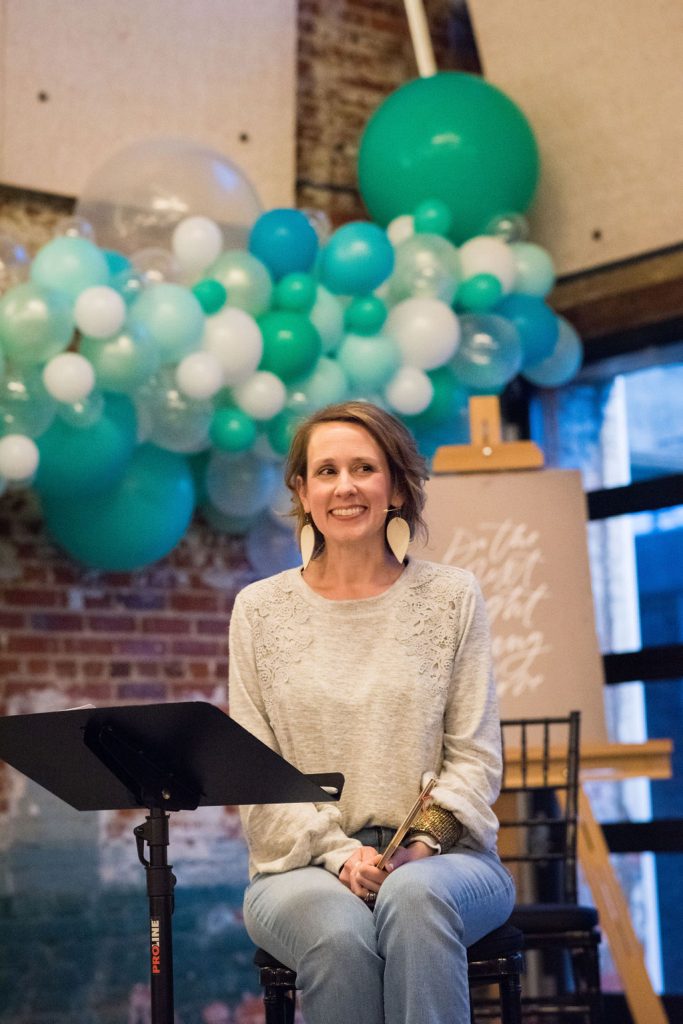 1. Have the party the night before the book releases.
I've done this all kind of ways and so far this was my favorite way. We had a party to celebrate and then we still had the next day (launch day) to look forward to! Plus it gave the book a lot of momentum going into release week.
2. Stay in your lane.
My lane, as the author, is the message of the book, setting the tone for the evening, creating the content, and hosting the night. My lane was to drive the ship. But that doesn't mean I had to build the ship.
My assistant Traci organized all of the details, including finding artists and a support team who could make everything happen.
3. Hire people to help you and say yes when people volunteer.
These photographs are (almost) all courtesy of Barrie Johnson of Barrier Photography who sent me a message a few weeks before the party and offered to take photos for free. My friend Jason Winsdor did the same thing, offering to bring a little camera and take some footage.
Megan Mazzucco did the balloon arch. My sister was all-around consultant and flower provider. Cookies of the night were from Sweet Stuff by Meredith and Morenike Fox.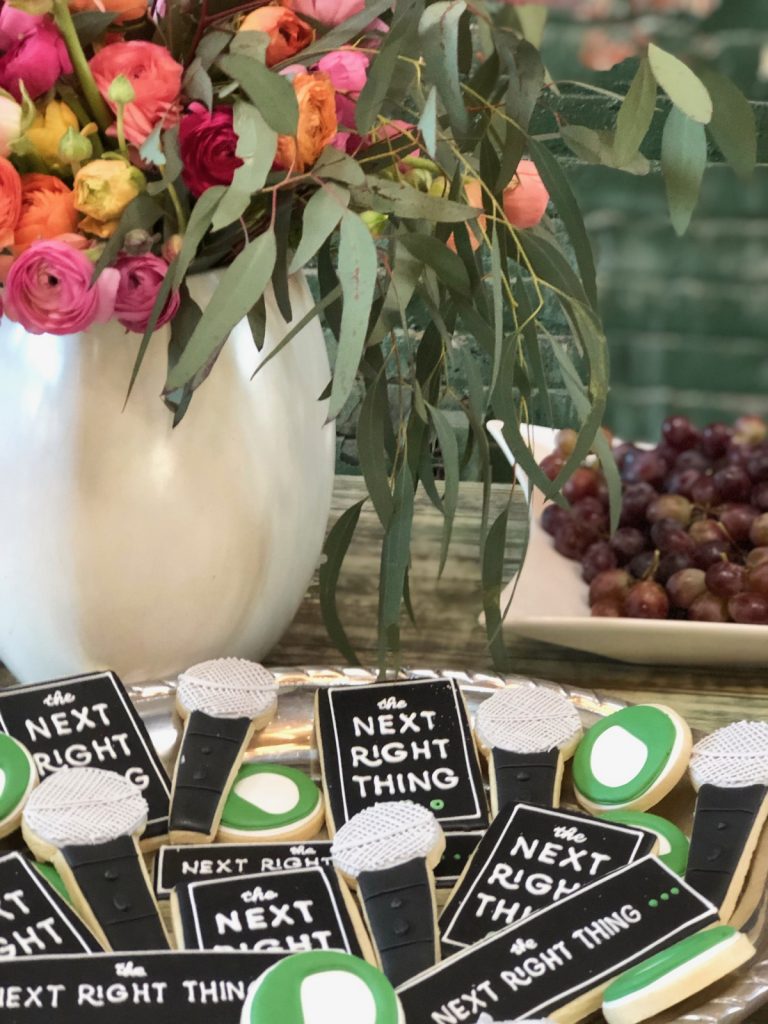 4. Make the gathering shareable beyond the guests who can come in person.
As I mentioned before, this is my 5th book. Here's how we celebrated the first 4 books:
Grace for the Good Girl: We hosted a private dinner at a restaurant for close friends and family (no public photos of this one) but my sister and mom also hosted a beautiful book signing event at my sister's house (this was back in 2011!)
Graceful: I brought in two musicians to our church and we hosted a night for the high school girls and their moms a few weeks after the book came out (it was a book for teen girls)
A Million Little Ways: We planned a half-day workshop type event a few months after the book released
Simply Tuesday: We had a fun event at my sister's barn in Charlotte (I loved this party)
These were all absolutely lovely ways to celebrate the releases of my previous four books. And having a private party is wonderful.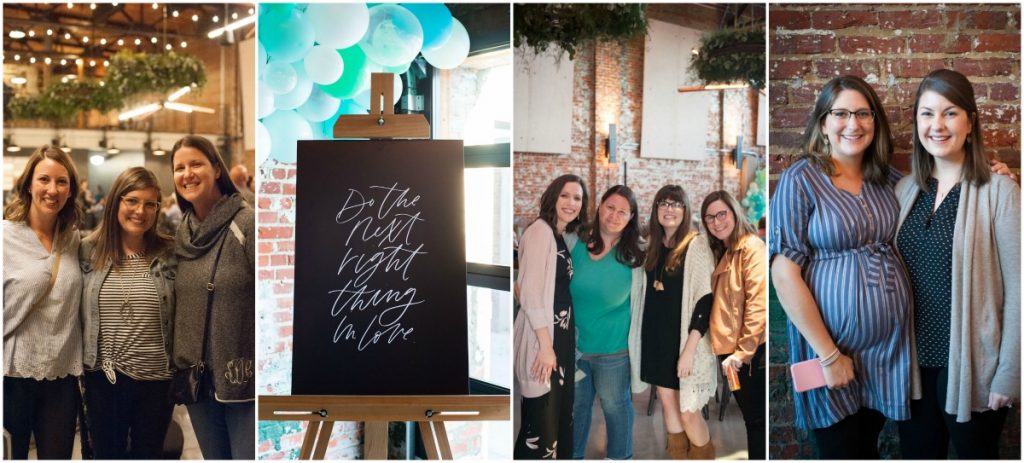 But for a book launch party, it was important for me this time for it to serve two purposes: celebrate and sell. Sell-abrate? No that's too much. Too much!
The way we shared it with readers and listeners of the podcast was two-fold: we live streamed it through Instagram and we recorded the whole thing and made it available as a bonus episode of the podcast (that you can listen to at the top of this post.)

That's my friend Alisa on the front row. She held my phone for the Instagram Live for the whole hour! She's a rock star with a forearm of steel.
Caleb Peavey of Unmutable drove to and from Atalanta in one day just to record the night for the podcast for us. He's  not only my marketing partner in crime, he's become a dear friend and I'm grateful.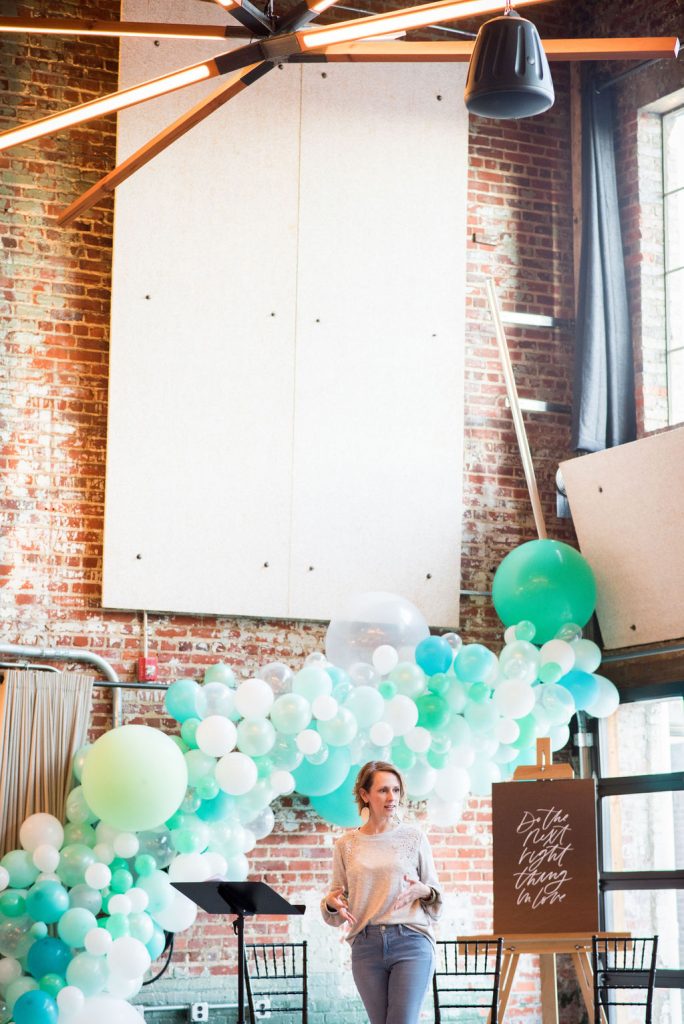 5. Celebrate people as much as you can.
It's a book launch, but it's also a way to thank everyone who has helped shepherd the book up to this point. If you listen to the live show, you won't hear all the thank you's as we cut those out of the recording, but rest assured there were thank you's at the actual event.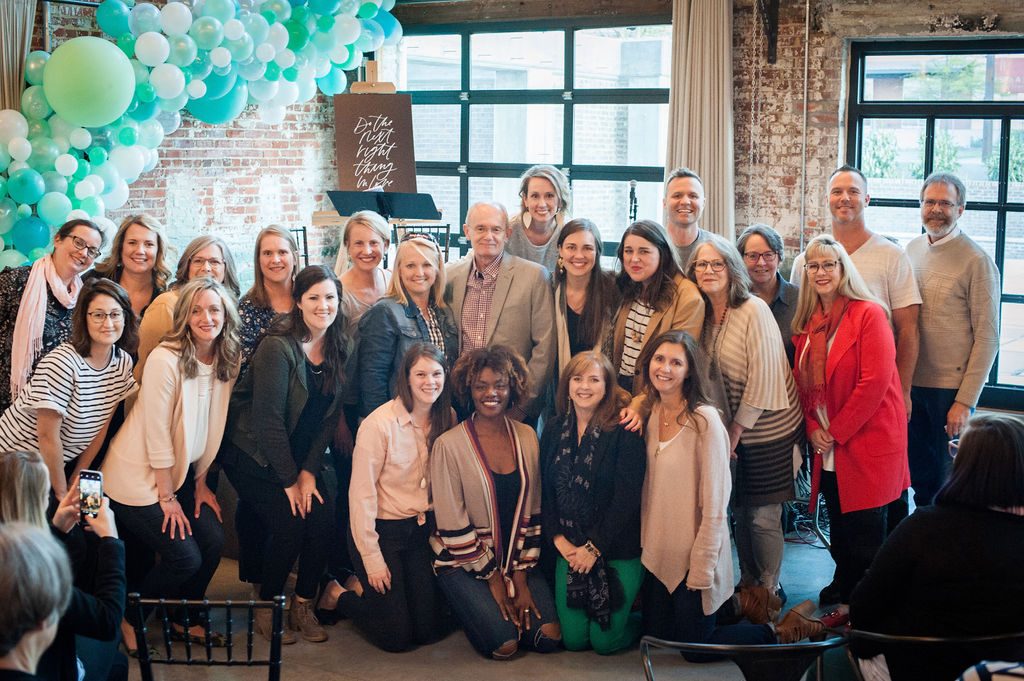 The above photo is a small group of our hope*writer members who joined us to celebrate and below is a group of The Next Right Thing launch team members. What a lovely crew!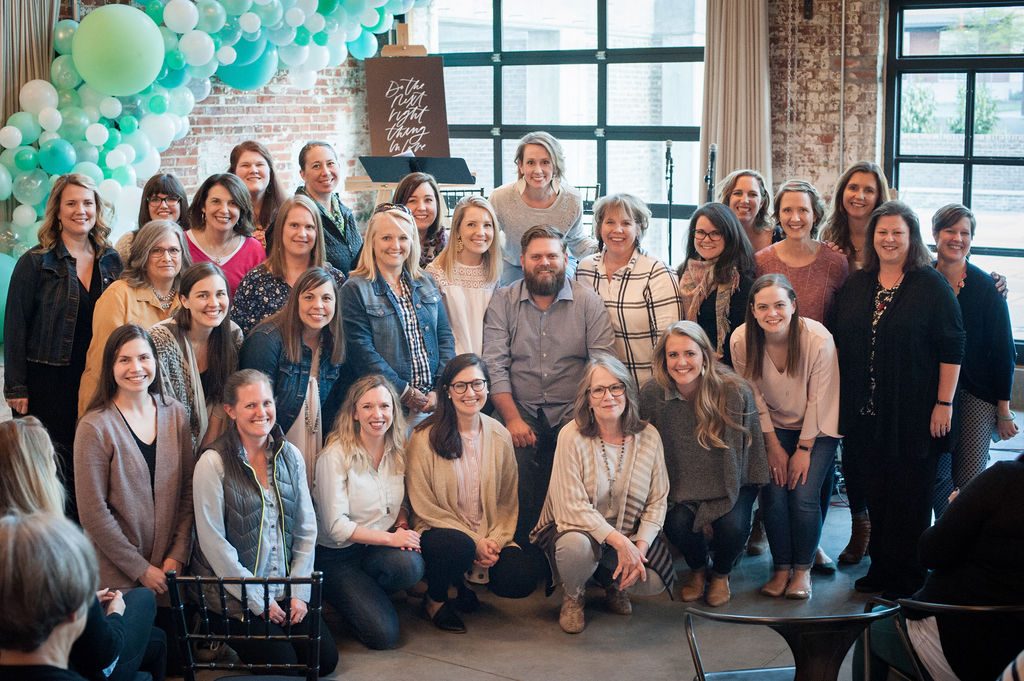 6. Sell books at your launch party.
Over the years I've done many books signings at our local Barnes & Noble so we've made connections with some of the staff there. For this party, we weren't sure if they would, but we asked if Barnes & Noble would be willing to come to the party and sell books for us.
In the past I've always sold them myself but it was one less thing to fiddle with. And lucky for us, Barnes & Noble said yes! They brought a giant cash register and sold books all night.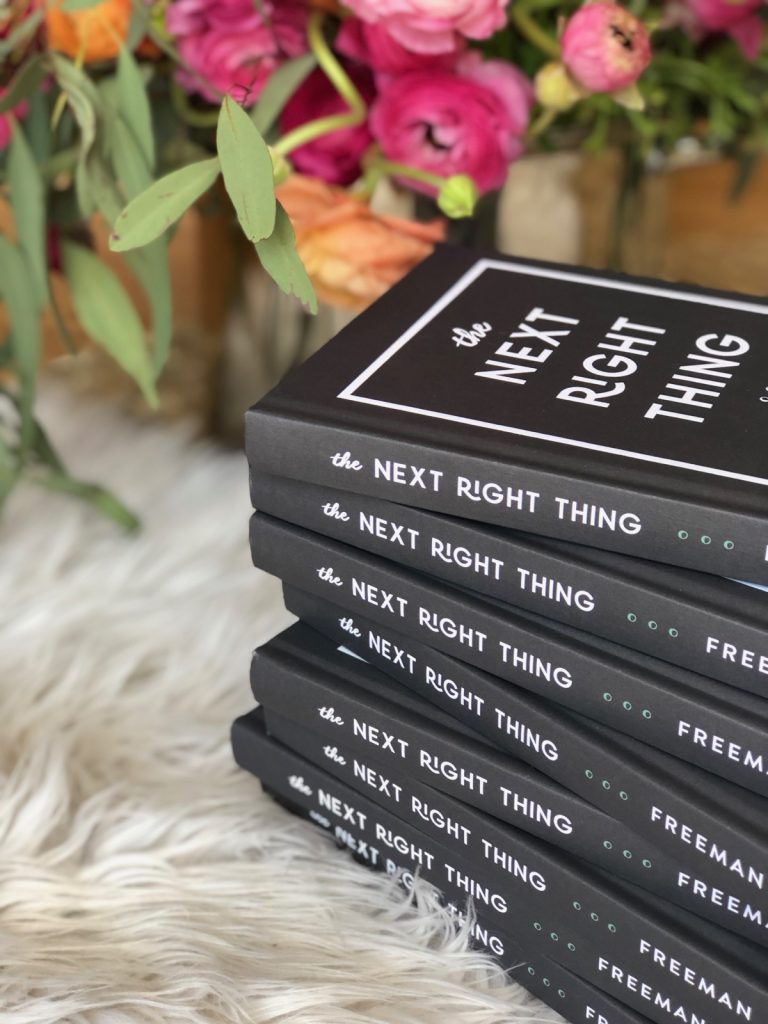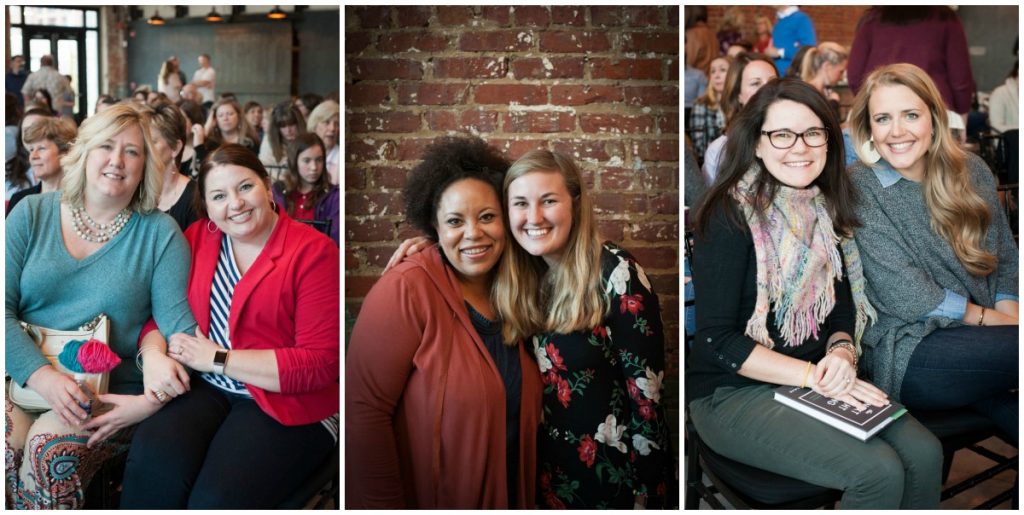 7. Read a portion of your book.
Leave a little time to read a short chapter or a few pages of your book at your launch party. For me, this was a sweet time to settle in and enjoy the room but not have to think about what I was going to say next because all I had to do was read.
8. Get a photo with your family.
With events like this, often the people you love the most stay on the sidelines and you forget to capture their presence. Put it on the schedule and make sure to get a picture of you with your closest people before the night is over.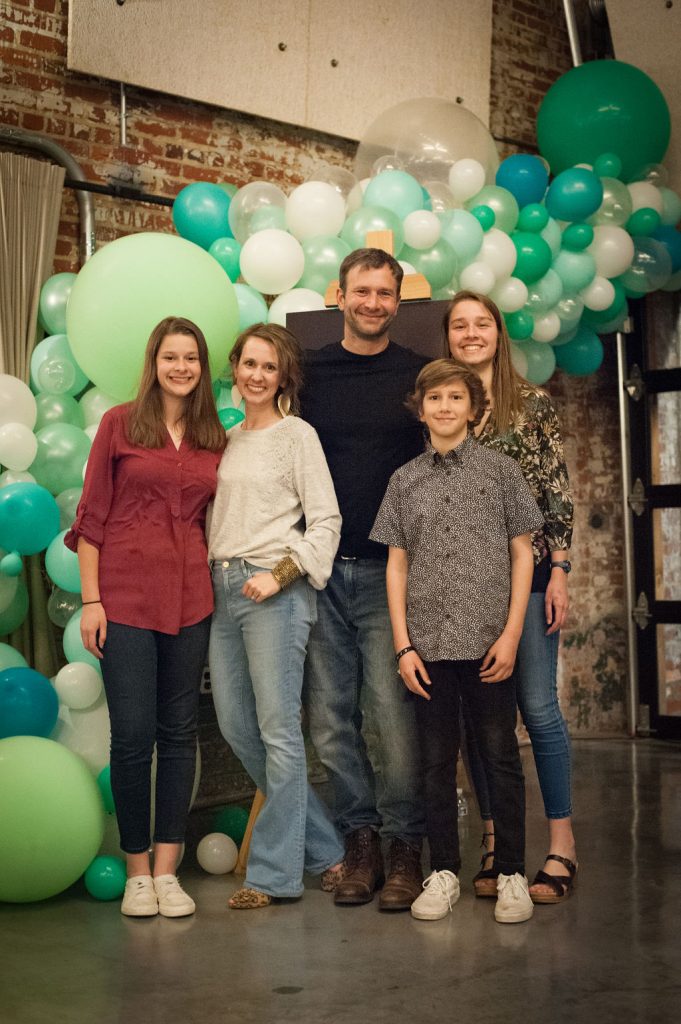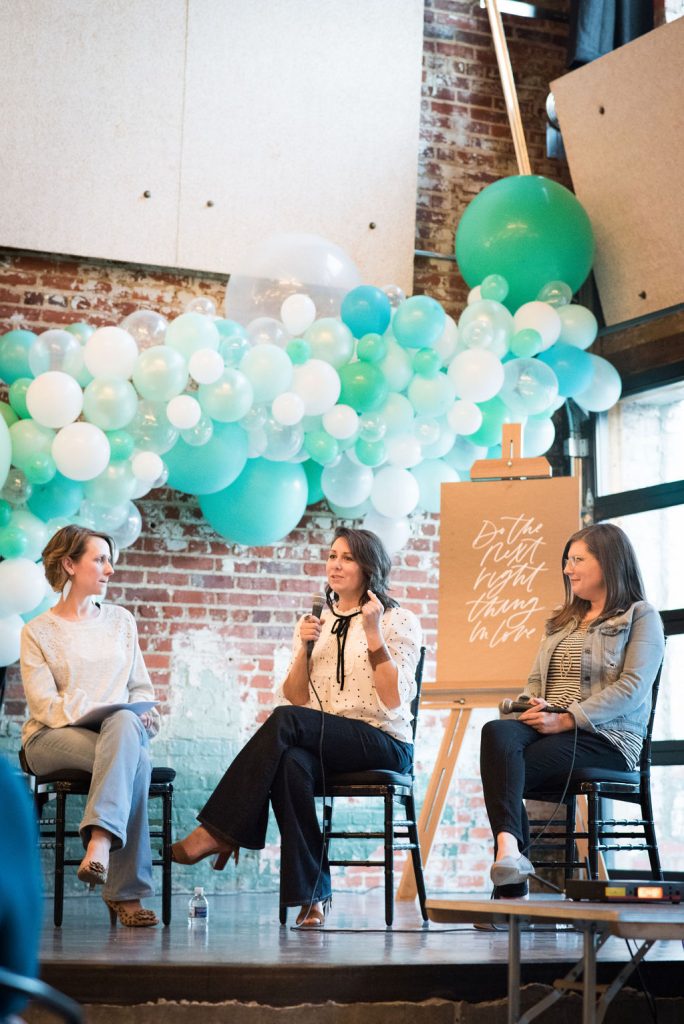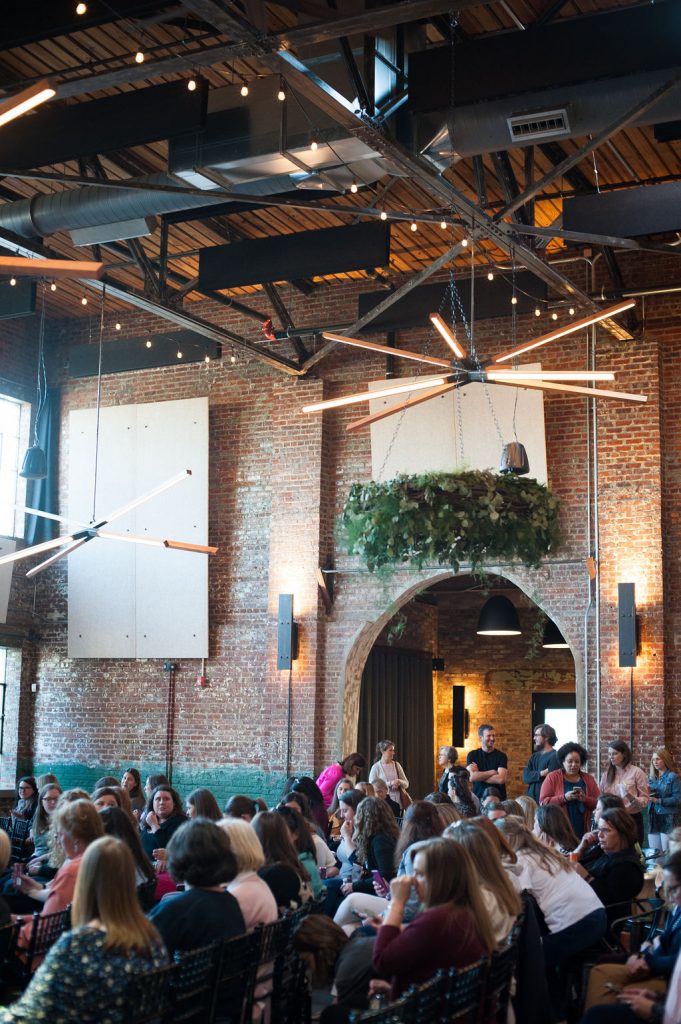 9. When it comes to the decor, a few bigs are better than lots of smalls.
My sister can speak to this way better than I can, but basically she always says if you have a few statement or large pieces, then you can get away with less stuff. We were able to host this event at the Cadillac Service Garage which, as you can see, makes a statement all by itself. Plus the floors matched the book so . . .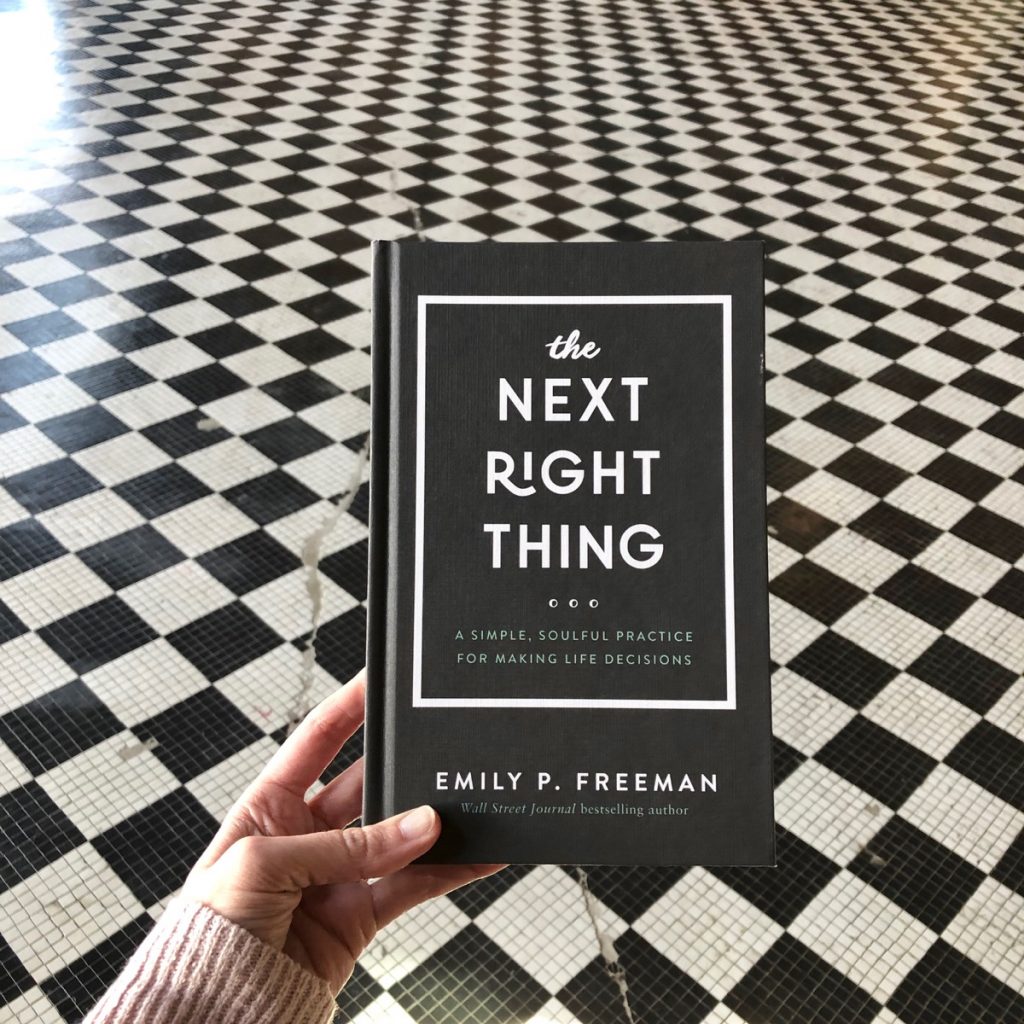 The giant windows, tall ceiling, exposed brick and stellar floors did a lot of the talking. We just brought in a giant green balloon arch and some lovely flowers and that's about all it took.
10. Don't expect a party to do everything.
Know the reason why you want to have a book launch party and then stick to it. The publisher doesn't require you to have a party. (And also they don't pay for it). You can do it on actual launch day or two months later (or not at all). It can be private or public. You can sell tickets or make it free.
There's no wrong, but just know why you want to do it and then let that be what it is.
What a fun night!

I'm grateful to everyone who helped make this night happen as well as all of the guests who showed up.

After the hard work of writing and preparing to launch a book, a book launch/live show felt just right.

The Next Right Thing is available now! Grab a copy on Amazon, Barnes & Noble, or wherever you like to buy books.