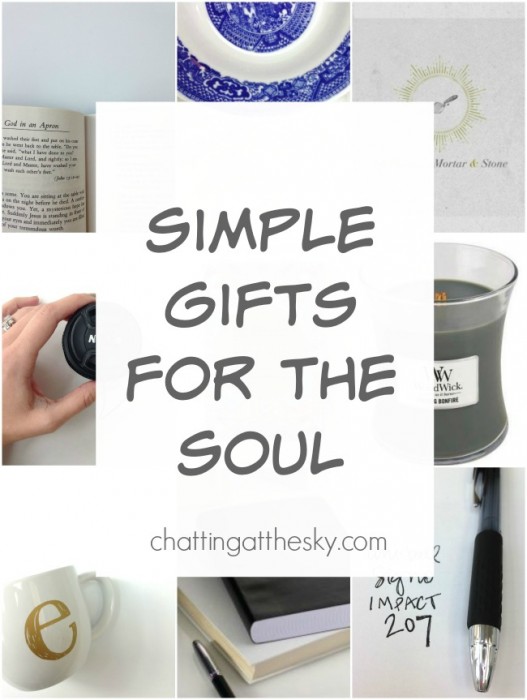 Here is a collection of some of my favorite things in my house right now. These are things that help my soul breathe, some in more obvious ways than others. But I wanted to share them with you incase you have someone in your life who might enjoy one of these simple gifts. Or maybe that someone is you!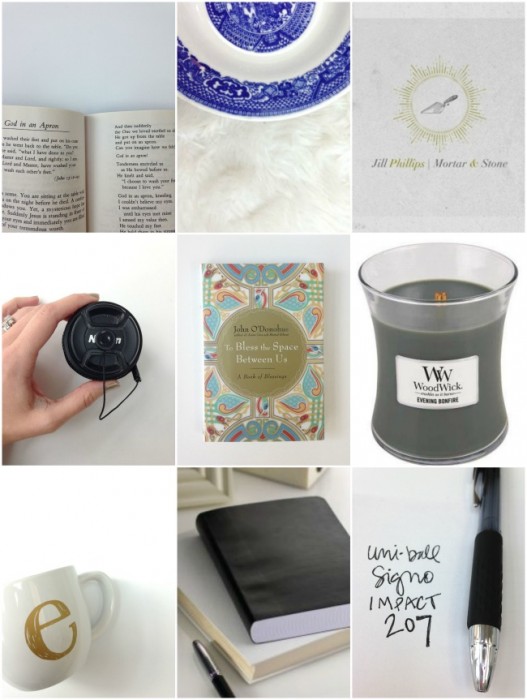 Seasons of Your Heart: Prayers and Reflections by Macrina Wiederkehr – My spiritual director reads aloud from this book nearly every time we meet. Macrina's words have been a kind companion for my soul during this season, including this simple prayer, "O God, help us to believe the truth about ourselves no matter how beautiful it is."
A bowl from the Goodwill – The easiest gift to find and give, a fifty-cent bow from your favorite thrift shop makes a lovely gift for someone who needs to remember their soul is made to receive from God rather than achieve for God. Hold it with both hands in prayer and remember to ask for daily bread.
Mortar & Stone by Jill Philips – Thoughtful music for anyone who needs to remember hope.
Nikon 50mm f/1.8D AF Nikkor Lens for Nikon Digital SLR Cameras
 – Taking photos helps me see. For anyone who wants to take a long walk without the distractions of their iPhone (and its handy camera), this lens makes for a nice extra set of eyes. I've used it for over seven years on my old Nikon d80 and love it. For the price you can't really beat it.
To Bless the Space Between Us by John O'Donohue – This book of blessings makes a great gift for a new friend or family member, especially if they are in a time of transition.
Woodwick Candle, Medium, Evening Bonfire
 – My sister introduced me to these candles. They have a wooden wick so they make crackling sounds when lit. A simple pleasure with a fragrance that fills the house.
Monogram Mugs – I have a weakness for mugs, I do. This one is from Target but I haven't seen the gold initials there in a month or so. The closest thing I could find are the ones I've linked to here from Anthropologie. They are a little fancier than my simple "e" but serve the same purpose.
Soft-bound black journal – Full disclosure, I haven't used this one yet. But I have 2 of them because I know I'm going to love the soft-bound cover and the graph paper lines. My friend Kendra recommends these and I always love what she recommends.
Uni-ball Signo Impact 207 Pen – These are my favorite pens right now, perfect for morning pages. Make sure they say "impact" or they won't have the same, er, impact. Trust me on this.
You may also want to check out this list from a few years ago: 10 Free Gifts to Give and Receive. And for the book lovers, here is an on-going list of some of my favorite recommended reads. Happy gifting!
*some affiliate links are included in this post