Well, then. I think one thing we've established is that Chatting at the Sky readers really like to talk about books. I loved hearing your advice about which book I should read from my 10 best books I've never read list.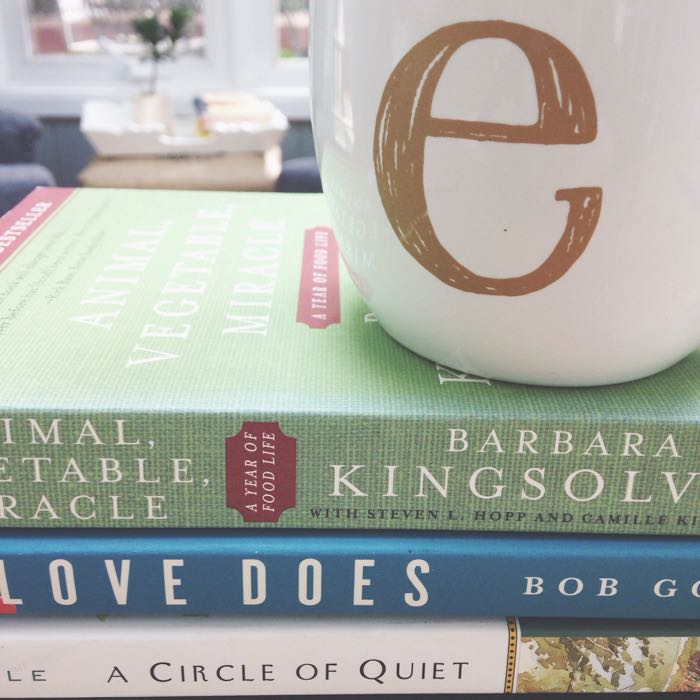 Several of you mentioned how you choose what to read next depends on your mood, your season of life, and state of mind. I couldn't agree more.
Meema even mentioned she can't have a fiction and a non-fiction book going at the same time. "I can't mix them," she says, "like a kid who won't allow her food to touch on her plate." So interesting!
I thought it would be fun to tell you how I decide when to read which books and then ask how you do it in the comments.
Personally, I don't mind if my books touch (that still kills me, Meema!) and I actually prefer having several books going at once. Instead, what book I pick up depends on the time of day.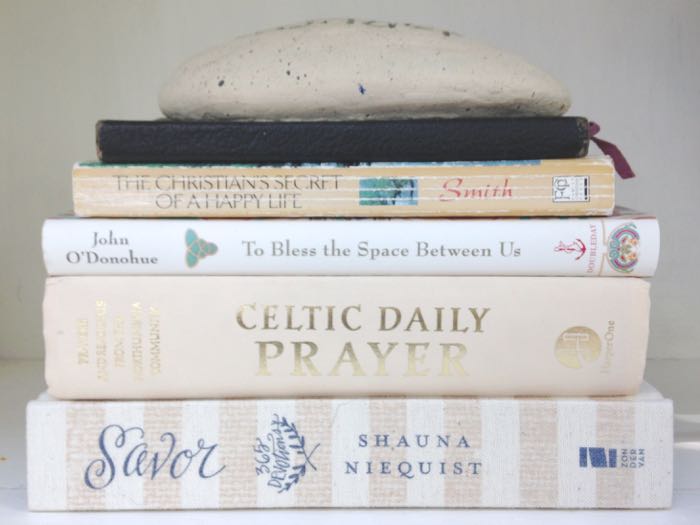 1. Morning – Reflective or Theological
Sometimes I'll get up in the 5s before the kiddos and I'll have lots of time to read. Other times my morning reading only happens once they head off to school. Whether I have five minutes or an hour, I always choose something reflective in the morning, usually devotional, theological, or memoir. (The Bible, Ann Patchett, Eugene Peterson, John O'Donohue, Hannah Whitall Smith).
2. Daytime – Creative or Business
My work hours are from around 8:30 in the morning until 2:30 when the kids get home. Sometimes I will work until 4 or 5 if I have a particular project, but usually those 6 hours in the middle of the day are for writing, email, conference calls, and anything else work-related. Those are also the hours where I'll throw in some laundry, run an errand or two, workout, and maybe make my bed.
All that to say, I don't tend to read in the middle of the day, but every now and then I'll find a pocket of time (maybe while I eat lunch or waiting at the DMV, for example). The type of book I'll pick up during a weekday is one having to do with writing, marketing, or creativity (Seth Godin, Natalie Goldberg, Steven Pressfield).
3. Evenings, Weekends, and Airplanes – Fiction and Funny Memoir
I have to save fiction and funny memoir for evenings, weekends, or traveling for the simple reason that I suffer from story addiction.
This means my family is neglected and ignored when I get into a book. For the sake of the safety of my children and the well-being of my family life, I need to save the imaginary worlds or hilarious words of others for evenings after dinner (Everyone is fed! You're all going to be okay without me!), before I go to bed (They're sleeping!) or when I travel (What? Flying through the air at 500 mph? Who cares! I'm engrossed in a novel!) See how that works? (Kate Morton, Sarah Addison Allen, Tina Fey).
Now. Here's what happened after I read your comments:
That very night I read the first chapter of Anne of Green Gables outloud with one of my daughters (Notice: Fiction in the evening). We've both seen the movie so know what's coming, but it's delightful to read together.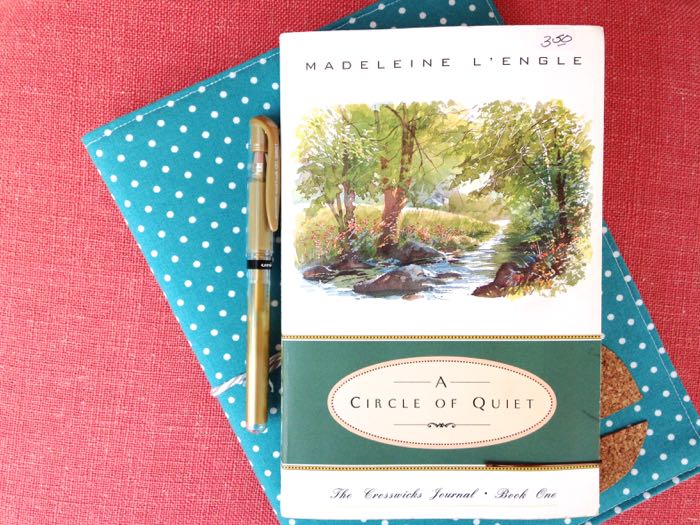 The next morning, I settled in with A Circle of Quiet by Madeliene L'Engle (Notice: Reflective memoir in the morning) as it's one I've been especially wanting to read for a while and it's also one several of you mentioned on Instagram, saying it changed your life.
Yes, please.
(Speaking of Yes Please, I read Amy Poehler's memoir a few months ago – I saved that one for evenings and weekends. Notice: Funny memoir).
Anyway, when I sat down to read A Circle of Quiet, I opened it to the first page and this is what was there to greet me:
Don't you love used books! I don't know if Elaine listened to Mary's advice and waited to read until things settled down, but I'm learning to stop waiting until life slows down to do things. A reading rhythm helps with that.
While some things in life I can't control, there are many things I can. My life tends to move at the pace I allow, and let me tell you with my new book releasing in 17 weeks, the pace is quickening, the lists are growing, and the deadlines are landing in my inbox like bang snaps on concrete.
For those of us who tend to think rest, fulfillment, and clarity live just around the corner, we would do well to learn now that Surprise! Life doesn't actually have corners.
Instead, we create our own stops, our own spaces, our own circles of quiet. One way to do that is to develop a reading rhythm that works for you.
"Often I need to get away completely, if only for a few minutes. My special place is a small brook in a green glade, a circle of quiet from which there is no visible sign of human beings."

Madeleine L'Engle
Do you have a book-reading rhythm you follow? Tell us in the comments! If you'd like to hear about the books I'm currently reading, I share that list every month in my newsletter. You can receive that monthly letter by signing up here.