Let's release our obsession with building our lives and trust in the life Christ is building within us, one small Tuesday at a time.
In about a month, high schools and colleges will be releasing another class of graduates into the world. And while it's good and right that they are in the building stage of life – discovering their giftedness, choosing a major, finding a job — it can also be an overwhelming and anxious time as well.
For many this pivotal transition from high school to college or from college into the world is equal parts thrilling and terrifying.
She is told to dream big and aim high. She holds herself to a high standard. But is it too much?
Does she already feel behind before she's barely even started? Does she lose sleep at night because she didn't get that internship? Is she already caught up in the comparison game, running a race that's impossible to win?
As she moves into the world and begins to uncover who she is as a woman, a creator, a student, and an employee, perhaps she could use a reminder of who she is in Christ.
Perhaps she needs to remember that no matter how far she travels away from home, she is never alone because Christ has made His home in her.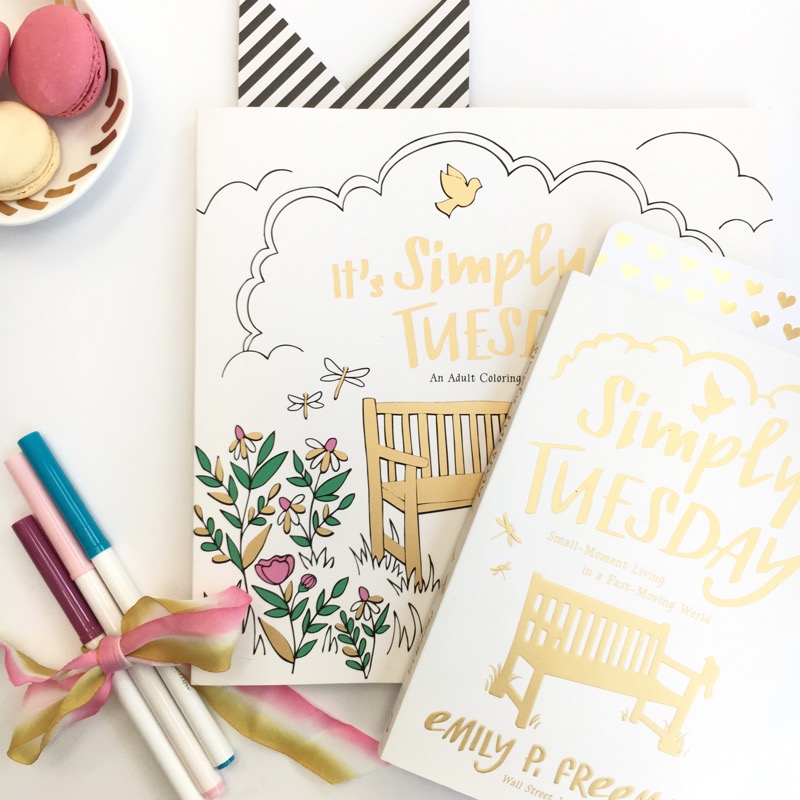 I wrote Simply Tuesday to remind us to stop dreading small beginnings and embrace today's work.
I wrote it to help us remember to find contentment in the now, even when it's frustrating or discouraging.
I wrote this book to help ease the pain of competition by replacing it with connection.
I wrote this book to help us breathe in a breathless world.
If you have a girl in your life who is preparing to enter into this beautiful, important transition from high school to college or college to the world, here is a gift I've made that I think will be a kind companion to her in this sacred time.
The coloring book is finally available today and I wanted to make that graduation gift easy for you by sharing exactly what you can get her, right down to my favorite pens and pencils.
Simply Tuesday: Small-Moment Living in a Fast-Moving World // First, grab a copy of the book itself. If you lead a group, I've created a free small group discussion guide you can download right here.
Find Simply Tuesday at Amazon, CBD, Target, or Barnes & Noble.
"This transition into adulthood after college is an ideal time to be seeking grace in the small, everyday moments. I'm thankful to have discovered your writing to help me do that in this season of my life!" – Elizabeth, a Simply Tuesday reader
It's Simply Tuesday: An Adult Coloring Book // With quotes from Simply Tuesday and scripture throughout, this coloring book is the perfect companion to the book.
Find the coloring book at Amazon, CBD, (and they take PayPal!), or Barnes & Noble.
Now for my favorite coloring tools. I've tried out a LOT of pens, pencils and markers in the past several months knowing our coloring book was releasing. Here are my two current favorites.
Prismacolor Premier Soft Core Colored Pencils
I've tried many colored pencils and these are my favorite by far. You can buy them individually or in a pack. Find them at Michaels or on Amazon.
Crayola Supertips Washable Markers
Simple, inexpensive, and familiar (it's Crayola!) these markers may not be the fanciest but they do the trick. I like them because they are accessible, I don't have to worry about wasting expensive ink, and they show up great when I want to talk a photo of my coloring page because let's be real.
Find them at Target or on Amazon.
A book, a coloring book, and some fun pens or pencils makes a great gift for the graduating senior. Wrap it all up with a fat ribbon and a kind note and you've got yourself a lovely send off.
More importantly, the message within the pages of these books is simple: For those being pulled under by the strong current of expectation, comparison, and hurry, relief is found more in our small moments than in our fast movements.
If you grab a copy of the coloring book for yourself or as a gift (CBD has it for only 9.99 right now!) we'd love to see it on Instagram! Simply use #itssimplytuesday when you post it.

And if you have a favorite pen or pencil for coloring books, let us know in the comments!