Don't use a bullet journal? This post is still for you if you 1. Love lists 2. Value thoughtful reflection 3. Need a little extra help to keep track of what you're learning. (Don't miss the free download at the end of the post!)
About four years ago, I discovered a practice that I've fallen in love with as it's helped me feel more present in my own life. It's the practice of keeping track of what I'm learning – from the serious, the sacred, the silly or the just plain useful.
Many of you have joined me in looking back before we move forward. Doing it together makes it more fun.
The practice of paying attention to what we're learning serves as an anchor for the soul in a fast-moving world. Instead of waiting for the world to stop so we can catch up, we slow ourselves, look around, and name what we see.
So this is your handy guide to help you know what to track, how to track it, and when to link up with us here.
How Tracking Can Help You
One of the comments I get from people most often is that they keep meaning to join us but they can't think of one thing they've learned.
The problem isn't they aren't learning. The problem is they aren't keeping track.
Personally, writing is how I know what I think about things. But tracking what I'm learning helps me understand who I'm becoming.
One way to decide what you should keep track of is to go back in your mind to the end of each year.
What do you tend to think about right before the turn of a new year? 
think ahead into the next year to make goals and cast vision?
reflect about family or relationships?
wish you could remember insights from books you read?
feel discouraged about your lack of progress on certain projects?
like to collect interesting facts and historical tidbits to impress party-goers? (That sounds like a killer party, by that way. Historical tidbits!)
When you think about the way you reflect at the end of the year, this will help to inform the types of thing you may want to track as the year goes by.
This will be a useful tool for you — instead of trying to reflect on an entire year at once by pouring over long-form journals or trying to remember where to find that quote from that book you read last February, you can simply pull out your simple lists of what you were learning as you learned it rather than trying to remember after the fact.
What to Track
The beauty of this practice is you can tailor it to your own life. There's no wrong! But if you need a little extra clarity on what to keep track of, here are some examples of things I write down on my own lists:
Family //
When I learn something new or interesting about a family member ex: My grandfather joined the war five days before the attack on Pearl Harbor. 
My kids say or do something surprising, funny, or thoughtful that I don't want to forget ex: Luke has started writing raps and it's fantastic.
Work //
What's life-giving and what's life-draining when it comes to my work. ex: I love to teach webinars. Who knew?
Insights I have about the work I'm doing. ex: Creative work no one knows about is hard work to finish.
Wins //
When I learn how to do something new that I've never done before. ex: I launched my first online course!
A moment worth celebrating ex: One of my books released in Dutch!
Struggles //
Something I want to get better at. ex: I'm learning how to rest and it's ironically hard work.
Relational interactions I realize I want to change or improve. ex: I'm not a great initiator.
Favorites //
Favorite shows and movies. ex: This Is Us makes me feel better about the world.
Shoes and clothes that work well. ex: I found my favorite shoes for airplane travel!
Life Hacks //
Stuff my phone can do that I never knew was possible ex: Holding down your finger on the screen of an Instagram story will pause the video. What?!
Recipe short cuts and/or new family favorites. ex: My daughter is obsessed with enchiladas. Make these more often!
Things that make you go hmmm //
Only eat oysters in months with an "R"
My doctor is married to my news anchorman. True story!
Entertainment //
Fun celebrity facts ex: Keifer Sutherland has a twin sister. 
Interesting tidbits about history or public figures. ex: The First Family pays for their own food bill.
Spiritual //
Things I learn about myself ex: The most difficult person to be kind to is me.
Things I learn about God ex: Instead of a map, God offers me his hand.
And on it goes. Our lives are lived in our everyday moments and this is the best way I've found to hold those moments, learn what they have to teach, and move forward with a lighter heart.
Some of these things are more serious or important than others, but keeping them all on one list helps to remind me how life has many colors and depths and I do best when I am willing to hold them all together, sacred and silly alike.
Those are some examples of what to track. Now here's some tips on how to track them.

How I Keep Track of What I'm Learning
When it comes to keeping track of what I'm learning, simple is good and right and just my style.
This is my third year using a bullet journal. If you've never heard of that (Is that possible? Seems like everyone is talking about it these days!) it isn't a specific journal. It's a note taking system created by Ryder Carroll.
For the past two years I've used this Miquelrius soft bound journal with graph paper lines but this year I'm trying the Leuchtturm 1917 with dots (I have the Emerald one but the others less expensive) although you can use any journal you like.
Here's the Miquelrius on the left, the Leuchtturm on the right.
And if you're anything like me, you want to know what the actual pages look like, so here's a peek inside (Miquelrius is the graph and the Leuchtturm is the dots).
The way I keep track of what I'm learning is simple.
I make my to-do list for the day with the date at the top of a page in my bullet journal. As something comes to mind, I simply mark it down on my to-do list with a WWL signifier (WWL = What We Learned).
Then at the end of the month, I go through and find all the WWLs in that month's pages and collect them all on one page like this:
This is how I kept track for years in my bullet journal. Sometimes they might not make sense to someone else reading them, but typing them up for the blog is a great way to elaborate and explain them.
Whenever I share my own lists, I host a link up here on the blog to invite you to share your own lists. I used to do this every month, but late last year I made an important change to my system.
From Months to Seasons
Last year, I started paying attention to how I most prefer to plan and vision for my work and my life.
I realized that at the end of each month, I often felt pressured to come up with something meaningful I was learning. I struggled to sum up deeper thoughts or reflections that take longer than 30 days to sink in.
But I already knew I couldn't wait until the end of the year to consider what I've learned – that's too long. By the time I sit down to think over the past year in December, it's hard to remember October, much less what happened way back in February.
I've found the sweet spot for me is about 90 days. I'm not the only one (see The 12 Week Year.)
I thought about how often times the more serious things I'm learning tend to go along with the seasons. Themes of waiting and listening in the dark tend to rise to the surface during Advent. Themes of growth and new life emerge in spring. You see how this is going?
If it's good enough for nature, it's good enough for me.
The three month span of time has become one of my favorite ways to plan and, in turn, my new favorite way to record what I'm learning.
Around the end of each season, I gather up my list and share it with you here, always happy to invite you to share yours as well.
If you use the bullet journaling system, I hope I've inspired you to add a new page to it called What I'm Learning. And at the end of the season, you can share your list with us!
For the Bullet Journalers + the Non-Bullet Journalers
Whether you use a bullet journal or not, I have something I hope will make it easier for you to track what you're learning each season.
It's a printable list, one for each season.
And if you are in the Southern Hemisphere, we didn't forget you! Even though it blows my mind that the seasons are opposite in the two hemispheres, we wanted to make sure there is a collection for you no matter where you live, so this download includes seasons for each hemisphere with the months to match.
There are also two sizes – a full page size and a half page that fits nicely within a journal.
Here's mine I started for What I Learned in Winter: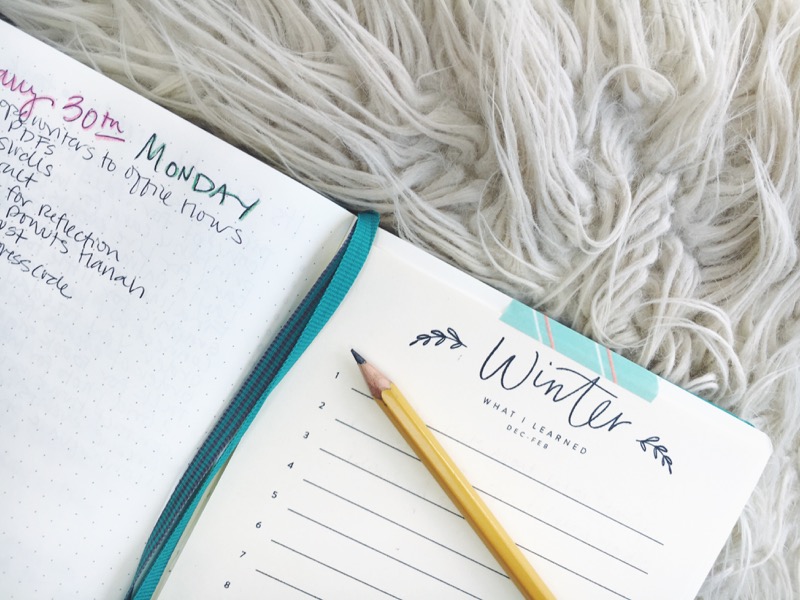 I just washy-taped it right in there onto my journal page and love it so much. We still have one month left before we share our What I Learned posts at the end of February, so I hope these printables can be that extra support you need to start keeping track today. Just scroll down to enter your email so we can deliver your lists.
Download Your Seasonal Lists

Enter your email below and we'll send you these printable seasonal lists to keep track of what you're learning. You'll receive both full-page size and journal size. Note: Both Northern and Southern Hemisphere options are included in your download, so be sure to print out the appropriate one.
2018 What I Learned Link Up Dates:
Wednesday, February 28
Thursday, May 31
Friday, August 31
Friday,  November 30
Add them to your calendar so you don't forget to come share your lists with us!