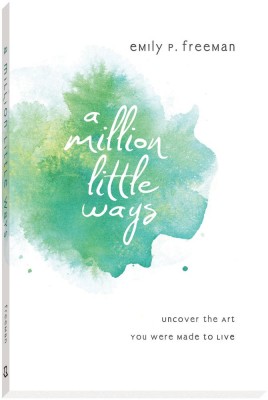 You were born to make art. You were made to live art. You might not see yourself as an artist, but you are—in so many unexpected ways. In what you create, whether poetry or pie, sculpture or sand castle, calligraphy or conversation. It's time to uncover the shape of your soul, turn down the voice of the inner critic, and move into the world with the courage to be who you most deeply are.
See the artistic potential in words, gestures, attitudes, and relationships. Discover the art in a quiet word, a hot dinner, a made bed, a grace-filled glance, and a million other ways of experiencing God in the world through the simple human acts of listening, waiting, creating, and showing up.
We arrived here as art and we spend our lives uncovering the beauty we have to offer. As the community of humanity, we will do that in a million different little ways.
Praise for A Million Little Ways
"With a breadth and scope of a writer who has lived her message as well as written it, Emily Freeman's A Million Little Ways will capture your mind and your imagination with a bold, fresh vision of the life you were created to live."
—Mark Batterson, New York Times bestselling author of The Circle Maker
"Emily Freeman's luminous words hand you your rightful birthright: to be as creative as your Creator Father. Read them and exhale. These pages just might really wow you awake to who you are meant to be."
—Ann Voskamp, New York Times bestselling author of One Thousand Gifts
"Dear World, Prepare yourself. Enjoy your last day of being filled with fear and guilt and wondering if what you do really matters, because this book will forever change the way you see everything you do from the mundane nightly dishes to your most risky creative endeavor. I've been waiting all my life to read these freeing words"
—Myquillyn Smith, The Nester, author of The Nesting Place
"This book is a word-painting, a shout from the rooftops, that deep within each of us, we all are God's poetry—the butcher, the baker, the candlestick maker, the housewife, the sculptor, the newspaperman, the carpenter. This book scares me a little, because it makes me ask myself not, what if I'm not an artist—but, what if I am? Emily has an extraordinary gift, and she shares it with us in this remarkable book."
 —Tsh Oxenreider, author and blogger at SimpleMom.net
"I read this book during a time where my art, my writing, felt more like wrestling with lions than soaring with creativity. Emily's words ignited something new and fresh and invaluable deep within me. Let this book help you release the art you were made to create and live!"
 —Lysa TerKeurst, New York Times bestselling author
"Emily Freeman is one of my favorite artists and speaks with authority, calling out the artist in all of us. Don't read this unless you're willing to be moved and rethink what you know about art, faith, and humanity."
—Jeff Goins, author, Wrecked: When a Broken World Slams into Your Comfortable Life
"Emily Freeman is one of the most gifted writers I have ever read and A Million Little Ways is an extraordinary achievement. In this delightful, insightful, and life-giving book, with deep faith and a gentle sense of humor, Emily speaks openly, honestly, and directly of the journey to knowing and becoming one's true self. This passionate book penetrates the soul, and it will challenge you and inspire you in the most wonderful of ways."
—Fil Anderson, author of Running on Empty and Breaking the Rules
"I'm tempted to say that if I'd been handed this book of Emily's 20 or 30 years ago, I'd have written many more songs and shared them sooner. The idea that I am a poem and so are you, together God's masterpiece, that all of this life is a walking installation piece, changes the way I think of living, breathing, loving, writing, and singing. It's gorgeous and freeing, and most importantly, it'strue. And as if the arrow-to-the-heart message of hers weren't enough, the way Emily carries it home with phrases that read like song lyrics make every single paragraph a pleasure for the artist in me. She calls me out and up, and articulates the soul of my own struggle with art-making and sharing, even after years of doing it. She makes you want to shine. I'm personally deeply grateful that this book exists and have added it to my short list of must-reads for artists."
—Christa Wells, Singer/Songwriter