In high school, I loved all those little sayings I heard Christians say. You know the ones – When God closes a door, he opens a window. Or Don't put God in a box! 
My personal favorite was when one of my friends in my small group went through a break up with a boy, our small group leader proudly announced: Rejection is protection! And we all promptly dove for our journals to write that one in big, bold letters.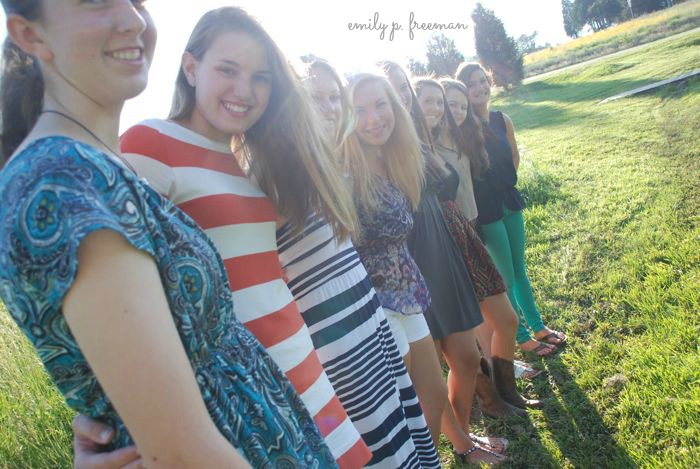 I tried to use that one once  on my current small group to see what they would do. They just stared at me and rolled their eyes. Then they laughed because they knew I was joking.
Maybe teenagers in 1995 were a lot more corny than teenagers today. Or maybe it was just me.
There are things our daughters (and sons, too!) need to hear us say. And even though the clichés may encourage some of them and may look cute on a poster, they will most likely fall flat on young ears. Here is my best attempt to come up with 12 non-cliché things our daughters need to hear us say.
1. I have hope.
I could tell her "Have hope." But, I speak as a daughter here, it means more to me to see my parents have hope than for them to tell me to have hope. My hope (or lack thereof) speaks louder to her than my words about hope.
Show her you have hope – you trust God with your family, you have hope for her future, you see light in dark places.
2. Live with God rather than for God.
It is common to tell young people to live their lives for God. And though I get the sentiment, I have seen how telling her to live for God can be confusing. The truth is the life she now lives, she lives by faith in Jesus. To tell her to live for God could lead her to try to perform for acceptance rather than living from the acceptance that is already hers in Christ.
God isn't sitting out in the audience of her life, waiting for her to get things in order. No, he's standing with her on stage. Even better, he stands within her. Remind her of her kind, compassionate, powerful companion who goes with her wherever she goes.
3. I'm sorry.
Of all the words I've ever spoken to my children, these two seem to have had the most powerful impact. Admit you are wrong when you are wrong and own the consequences.
4. Be who you already are.
She needs to be reminded of who she is, not who she is expected to be. In Christ, she is loving, even if she is acting unloving. In Christ, she is patient, even if she is acting impatient. Appeal to her new creation identity rather than simply shaming her for her wrong behavior.
Tell her she is beloved. Tell her she is beautiful. Remind her what is already true. Invite her to live into the truth of who Christ is forming her to be.
5. You can't save people.
Only God can do that. I grew up with a mom who knew Jesus and a dad who didn't. So I spent four years of my young life carrying the weight of my dad's salvation on my shoulders. The story ends well as he accepted Jesus when I was 11. But looking back I realize what a ridiculous expectation I put on myself. Remind her to pray for those who don't believe, but to never carry the weight of trying to save them on her own.
6. I'm trusting Jesus. Want to join me?
John says this one a lot to our kids (our twin girls are 9 and our son is 6) when our family is in the midst of a transition or facing something potentially scary. It may seem a little corny for older ones, but the message it sends is this – I am trusting God and am okay whether you join me or not. I invite you to join me and would love for you to join me, but the choice is entirely yours. 
I've heard it said you can't make a kid eat, sleep, or use the bathroom. And I'm going to add this: you can't make a kid trust God. Remind her that your faith is your own and so is hers.
7. You have something to offer the world.
I realize this dances dangerously close to You are a unique snowflake. But it's kind of true, isn't it? She is the only one of her there has ever or will ever be. She is made in the image of God and has the distinct privilege of carrying that unique image around in the world. Christ lives within her and will come out of her through the filter of her unique personality. Remind her she has something (lots of somethings, actually) to offer the world. Walk with her as she experiments with what those things might be.
8. I trust Christ in you.
When I was in high school and would have a problem I was trying to work through, my dad would listen and offer advice, but he would often end our talks with this statement: "You know where to go." He never freaked out, never tried to push me into a decision. He could have said "I trust you" and that would have built my confidence some. But what I knew was that he actually trusted Christ in me – and that is where the mystery Paul speaks about in Colossians 1:27 comes in – Christ is in me. So it's me, but it's him, but it's me, but it's him – what a beautiful mystery indeed.
For me, knowing my parents trusted me built my confidence – but knowing they trusted Christ in me took the pressure off.
9. You are deeply loved.
Or, to put it a little differently, I like to use these words from Andrew Murray:

10. You are not alone.
This could be one of the most heartbreaking realities I see among girls – they feel so desperately alone. Remind her you are with her, Christ is with her, and be careful not to try to fix her loneliness. This may be the very intimate place where Jesus could show her his companionship as he never has before.
11. Want to go get some FroYo?
She might roll her eyes. She might say no thanks, Mom. She might rather spend time with her friends. Keep asking. When and if she finally says yes and you have the chance to sit across from her with a cup full of cake-batter flavored frozen yogurt with strawberries and gummy worms on top, look into her eyes and release your own agenda. If she wants to talk about the weather, let her talk about the weather. Be curious. Be open. Be available to her even if it seems like she doesn't care if you're available or not.
She does care. She absolutely cares.
12. ________

No, that's not a typo. Sometimes the one thing our girls need to hear us say is nothing at all. Words mean nothing if our lives don't speak for us. I am personally aware of how I sometimes use words of belief to cover up for my lack of real belief in my daily life. It's easier to tell my kids a bunch of things that are true than it is to live as though I believe those things are true.
I'm reminded of a story Brennan Manning shared in The Wisdom of Tenderness of the elderly Uncle Seamus who joyfully skipped along the Irish shoreline. And when his nephew asked him, "Uncle Seamus, you look so very happy. Do you want to tell me why?"
And he responded, "Yes, lad. You see, the Father is very fond of me. Ah, me Father is so very fond of me."
May we be able to speak love into the lives of our girls only and always because our Father speaks love into us – and may we say with Uncle Seamus, the Father is very fond of me.
As I said before, this list is by no means exhaustive. I'm sure tomorrow I could come up with 12 more. But since I shared earlier this week one thing your daughter doesn't need you to say, I thought it only appropriate to offer some things she might need to hear. And if I'm very honest, I need to hear them, too.
What would you add to the list?
Want a resource to read with the teen girl in your life? I wrote a book called Graceful just for her. Read the first chapter here for free or watch the 3-minute mini-movie.

[display_form id=14]